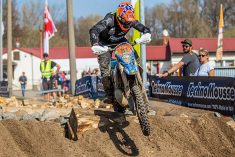 The 2019 season began with a very tough and demanding GP in Dahlen, Germany. This excellent first round also saw the launch the brand new Champion Lubricants Enduro Open World Cup. So let's take a look back at how these three new categories were fought out…
Starting with the Enduro Open 2-stroke class, Gonçalo REIS (P – Gas Gas) and Richard TUCKER (GB – Sherco) shared the victories – REIS on Saturday and TUCKER on Sunday. But the advantage goes to the Brit who, in addition to his victory on Sunday, took second place on the first day while his Portuguese rival took a two minutes penalty for arriving too early at the Time Check, and he had to settle for 5th place.
With two third places, Nico RAMBOW (D – KTM) completes the Top 3 in the standings of this category but remains under the threat from Poland's Rafal BRACIK (KTM), who took an excellent second place on Sunday. Austria's Martin ORTNER (Husqvarna – 4/4) completes the Top 5.
In the Open 4-strokes class, Austria's Bernhard SCHÖPF (KTM) left his rivals in his wake, doing the double. Although on Sunday he was running behind Luis OLIVIERA (P – KTM) for most of the day, he took full advantage of a two minutes penalty for the Portuguese rider and remained undefeated in Germany.
The KTM rider sits first in the standings ahead of Germany's Robert RIEDEL (KTM – 2/2) and Britain's Fraser FLOCKHART (Yamaha – 4/3), who is tied with Luis OLIVIEIRA (3/4) in the provisional classification. Finally, the Dutchman Bas KLEIN HANEVELD (Husqvarna) takes the final place among the five fastest riders of the category.
Finally, Enduro legend David KNIGHT (GB – TM) left no chance for the other 29 riders enlisted in the Open Senior category. The giant for the Isle of Man achieved an impeccable double and thus takes the top spot in the standings in the class for riders over 37 years old. Behind him, Austrian Champion Werner MÜLLER (KTM) and Euan MCCONNELL (GB – TM) enjoyed great battles on both days. This duel went in favour of the KTM rider, who therefore takes second place in the provisional standings ahead of the Scot MCCONNELL however won the first round of the Champion Lubricants Enduro Trophy!
Behind this trio was Italy's Andrea BELLOTTI (KTM) who takes 4th position overall, just in front of Portugal's Fernando FERREIRA (Sherco)!
The Champion Lubricants Enduro Open World Cup is well underway! This first round in Germany augurs well for a good season with a large number of participants. The next round will be from May 3 to 5 in Valpaços, Portugal where we will see whether TUCKER, SCHÖPF and KNIGHT can hold off their rivals for another weekend…
What They Said:
Richard TUCKER: "It was an amazing experience for me, this new Open Championship is a really good idea. To compete in the World Championship is something I've always wanted to do, and to come away with a 2nd and 1st in my class was a really unexpected but amazing result. This event was awesome, you had a bit of everything thrown at you on the tests and on the going it was pretty tough like it should be!"
Bernhard SCHÖPF : "On these first two days of the season I tried my best to win and take an advantage into the next race. That plan worked pretty well. The creation of these new World Cups is really cool, and doing only two laps instead of three is fine for "normal" riders like me. It's really a very good idea!"
David KNIGHT : "I really enjoyed this weekend. It's great that these new classes have been created because we all enjoyed the experience here in Dahlen. When I got up on Sunday morning, I thought I would have trouble seeing how the stages had deteriorated the day before. But in the end, I felt better on the second day. It was a very nice event and a real tough Enduro as we like them. It'll be fun if the whole season is like that!"
Provisional Classification:
Open 2-Stroke: 1. Richard TUCKER 37pts; 2. Gonçalo REIS 31pts; 3. Nico RAMBOW 30pts; 4. Rafal BRACIK 28pts; 5. Martin ORTNER 26pts…
Open 4-Stroke: 1. Bernard SCHÖPF 40pts; 2. Robert RIEDEL 34pts; 3. Fraser FLOCKHART 28pts; 3. Luis OLIVIEIRA 28pts; 5. Bas KLEIN HANEVELD 22pts…
Open Senior: 1. David KNIGHT 40pts; 2. Werner MÜLLER 34pts; 3. Euan MCCONNELL 30pts ; 4. Andrea BELLOTTI 26pts; Fernando FERREIRA 22pts…