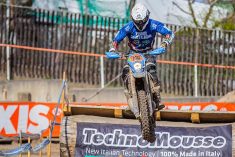 The brand new 2019 season got underway in style in Dahlen, Germany. Let's take a look back at this first round which gathered together 160 riders and more than 18,000 spectators over the weekend…
Credit
Five months! That was the amount of time left for MSC Dahlen the organise this opening round of the season, a contract which was arranged in mid-October last year. And in these five months, Lars SCHOLZ and his team did an excellent job to give the championship riders a race worthy of World Enduro. Moreover, everyone from the riders to the team managers, ABC Communication, John COLLINS (Director of Enduro) and the FIM all gave high praise to the Moto Club. Four unique and technical specials, with catering and beer stalls at every single one of them, and plenty of marshals: happy spectators and happy riders!
Elder Statesman
With the creation of the Open Senior category, many riders over 37 years old were able to participate in their first GP while others, like KNIGHT and BELOTTI, had the opportunity to return to the Championship. While the majority of these riders were between 40 and 50 years old, Leonard MOULIJN could be proud to say he was the eldest of the entrants as the Dutchman is 63 years old! Unfortunately, he was not able to finish the event but it's a great story nonetheless – At 63, MOULIJN finally realised one of his dreams to enter World Enduro!
Elowson Returns
Signed with a lot of ceremony to the Yamaha Johansson MPE team in the winter of 2018, Albin ELOWSON (S) eventually sat out all of last season and even broke his contract with Joakim JOHANSSON's team. One year later, the 2016 Vice World Junior Champion is back on the Maxxis FIM Enduro World Championship, making his Senior debut. He made a big impression on the first day, amazingly taking a podium in the Enduro 2 class with 2nd. Unfortunately, ELOWSON woke up sick on Sunday and could not start… No doubt we will be seeing him again during the year and he could well play spoilsport in this super competitive class.
Infirmary
After just one Grand Prix some riders have already joined Davide SORECA (I – Honda RedMoto) in the infirmary… to begin with Dan MUNDELL (GB – Sherco), who picked up a hand injury before the GP decided not to risk riding after he experienced a lot of pain at the training area. Alex SNOW (GB – Gas Gas) hurt his foot, Kirian MIRABET (E – Honda) badly damaged his knee, and Valérian DEBAUD (F – Sherco) sprained his wrist and thumb. Some rest and recuperation will be required from all these riders, we wish them a speedy recovery and hope to see them again at the second round in Portugal.
Official Photos
A new season means a new 'class photo' as the riders go 'back to school' for another year. All the entrants of this German Maxxis Grand Prix, be they EnduroGP, Junior, Youth 125cc or Champion Lubricants Enduro Open World Cup, went under the lense of present press… who themselves also had a group photo!
Love Story
"I love Eero REMES so much that if I were a woman, I would marry him!"
These were the words of his team manager at Johansson MPE, Joakim JOHANSSON. It seems that the whimsical Swede is already a fan of his newly signed rider! REMES climbed onto the top step of the podium the first time of asking, but suffered a DNF when his chain came off. Would the love story have been even more intense if the Finn had achieved the double? Who knows! We'll see how this story develops over the season…
Trek
It has been 11 years since Euan MCCONNELL (GB – TM) retired from the Maxxis FIM Enduro World Championship. But when the news of the creation of the Enduro Open Senior came out, David KNIGHT spent his winter calling the Scot to get him back into competition. 'Knighter' did the job and the TM rider arrived in Germany… after leaving home in Scotland on Wednesday afternoon in his motorhome. From there, he took the ferry to Calais and then drove 850km solidly to arrive in Dahlen on Thursday at midday. An epic journey, but one which was worthwhile as Euan took two Open Senior podiums and enjoyed great battles with Werner MÜLLER! "Big Mac" has promised that he will come back again this season!