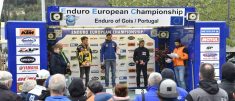 Double for Kouble in Portugal
Krystof Kouble from the Czech Republic also won the second day at the start
of the European Enduro Championship in Gois, Portugal. Thus, the KTM rider
takes the lead in the overall classification for the first time.
The only 21-year-old motorcyclist naturally also won the junior class E2/3
in which he takes part.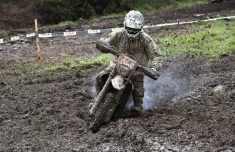 The Swede Albin Elowson not only won the cubic capacity class of the big
four-strokes, but also took second place in the overall standings with his
Husqvarna. The Finn Emil Pohjola, who had been ahead of Elowson the day
before, lost some time after a crash, when he had to ride two special stages
without clutch.
The Swede Max Ahlin won the youngest of the participants, the 125cc riders
up to the age of 21, as he did on day one: The 17-year-old Sherco rider
finished sixth in the overall standings, just behind 125cc last year's
winner Roni Kytönen from Finland, who this season moved up to the junior
class with the big bikes. But also in the class no herb seems to have grown
against the Husqvarna rider, because in the junior class E1 he also won both
daily classifications superior.
The Finn Petri Pohjamo, who has been successful in the Enduro World
Championship in the past, won his first seniors' race among seniors who are
over 40 years old. On the first day he had to give up prematurely due to
technical problems, so he is still a bit behind in the championship.
Even though there was less rain in Portugal on that day, the track was much
more difficult than the day before – the ruts were too deep and cost
additional power. So again there were numerous retirements, even though some riders with technical problems or physical injuries just managed to make it to the finish. Almost a quarter of the participants dropped out and a further quarter of the participants collected time penalty points due to delays at the checkpoints.
The Góis Moto Clube has done an excellent job as the organiser on site to
organise the competition under these difficult conditions in an excellent
and trouble-free way.
More information and schedules, results and links, there are always up to
date and right on the official website: http://european-enduro.com/
Dates 2019
6th/7th of April Góis / Portugal (www.goismotoclube.pt/)
18th/19th of May Brenzo / Slovakia (www.bmt1.sk)
29th/30th of Juni Madona / Latvia (www.lamsf.lv/en/sports
6th-8th of September Heinola / Finnland (www.hemk.net)