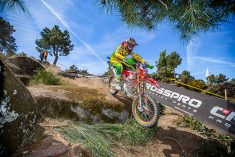 On the second day of racing in Valpaços the Maxxis FIM Enduro World Championship riders set off for another three laps in the tough Portuguese terrain. The weather was much the same as day one – warm and dry, but the special tests were rougher. One of the biggest questions of the sesson was answered today; who can beat quadruple World Champion Steve HOLCOMBE (GBR-Beta)?
Brad FREEMAN (GBR-Beta) was the one to topple his fellow compatriot! The Beta Boano rider showed his strength all day long, but the gaps were still tiny between FREEMAN and his rivals. But the Brit kept his focus and pulled out a gap over the usually dominant HOLCOMBE. And so the youngster wins his first overall Grand Prix in 2019 and boosts his confidence for the next round in Spain next week.
Steve HOLCOMBE had been hoping for four victories from four days of racing. The factory Beta rider instead had to settle for the 2nd step on the overall podium. A little tired from his efforts the day before, HOLCOMBE still threatened FREEMAN all day. And interesting twist the tale of these two Brits.
Alex SALVINI (ITA-Honda) was solid and strong again on Day 2. He was able to see off his opponents one by one, starting with Davide GUARNERI (ITA-Honda) who had been set for the final step of the EnduroGP podium. And so 'Rocky' finished 3rd overall today, he'll go to Spain in good spirits.
Several riders were tested to the max throughout this second day of racing. Danny MCCANNEY (GBR-TM) made a big mistake in the first Technomousse Extreme Test, but the TM rider pulled it back for another good performance – he won a test and leaves Valpaços in 4th position. The Manxman's performance will have pleased the team, as their other rider Loïc LARRIEU (FRA-TM) was unable to start following a mechanical failure on Day 1 that wasn't fixed in time.
Honda Lunigiana rider Davide GUARNERI put in another impressive performance and he fought well all day. The Italian finished 7th overall on the day. Also on a Honda, the Frenchman Christophe CHARLIER (Honda) took his second Top 5 overall of the weekend. "CC" is pleased with his progress on the Honda CRF450.
The duel in E1 was a great one, and Brad FREEMAN won and ahead of Davide GUARNERI and 2018 Junior World Champion Matteo CAVALLO (ITA-Sherco).
Alex SALVINI was delighted with his second consecutive victory in E2. He took the top step ahead of Christophe CHARLIER and Eero REMES (FIN-Yamaha). Loïc LARRIEU really lost out this weekend with a DNF and a DNS.
Despite losing out on the overall victory today, Steve HOLCOMBE still took top honours in the E3 class. In fact, the podium was identical to that of Day 1 with HOLCOMBE accompanied by MCCANNEY and Anthony GESLIN (FRA-Beta)
Enric FRANCISCO unable to see off the 'shark', Andrea VERONA
By a tiny margin of just 9 seconds, Spain's Enric FRANCISCO (KTM) conceded overall Junior victory against Andrea VERONA (ITA-TM). Ivan CERVANTES' protege had a solid race all day, but a mistake in the last Enduro Test cost him time, and the 'shark' Andrea VERONA was ready to attack after stalking his rival closely all day. However, impressive FRANCISICO will carry a lot of confidence into his home GP next week in Santiago de Compostela (Spain).
4 out of 4 is the formidable statistic of Andrea VERONA. So far, the TM rider has been near faultless in the Junior category. After this exemplary start to the season, Andrea hopes to keep up this pace and continue his winning streak.
Everyone expected Wil RUPRECHT (AUS-Yamaha) to be on at least one podium today, but instead it was Jack EDMONDSON (GBR-Sherco) who stepped up to snatch the 3rd step on the overall podium. The Sherco rider suffered with the heat this weekend, but he found enough energy and coupled this with his silky smooth riding style to finish this Portuguese weekend on a positive note.
Meanwhile the friendly Australian, RUPRECHT, finished 2 minutes 30 behind VERONA on this very tough Sunday. We're sure he'll be back for more next weekend.
The classification in J1 was VERONA ahead of Theo ESPINASSE (FRA-Sherco) and another Frenchman, Thomas DUBOST (KTM).
In J2 FRANCISCO and EDMONDSON were accompanied by the class rookie Ruy BARBOSA (CHL-Husqvarna).
Youth 125: MACDONALD 4X4
What a display by Hamish MACDONALD (NZL-Sherco) in the Youth 125 class! The New Zealander signs off his 4th success of the season. He finished Day 2 with a slightly smaller lead than the first day as he admitted making a few mistakes towards the end of the day. But it's a clean sweep for the Kiwi nevertheless.
MACDONALD was joined on this Sunday podium by Alejandro NAVARRO (ESP-Husqvarna) and Claudio SPANU (ITA-Husqvarna).
In the Champion Lubricants Enduro Open World Cup, the results were almost identical to those of Day 1. David KNIGHT (GBR-TM) won the Senior class ahead of FERREIRA (PRT-SHERCO) who moved up one place compared to Saturday. Andrea BELLOTTI (ITA-KTM) completed the top three.
In the Open 2-Stroke class it was another popular victory for Portugal's Goncalo REIS (KTM). He beat compatriot Joao LOURENCO (PRT-Beta) and Spain's Jorge PARADELO RODRIGUEZ (ESP-Gas Gas).
In Open 4-Stroke, Tom ELLWOOD (GBR – Kawasaki) took his second win of the weekend. Fraser FLOCKHART (GBR-Yamaha) and Mathias VAN HOOF (BEL-Beta) were 2nd and 3rd once again.
There's not long for the riders to rest and recover after this punishing weeekend, as next week they'll head to the third round of the season and the Grand Prix of Spain in Santiago de Compostela.
A huge and heartfelt 'thank you; goes out to the organisers of this Grand Prix of Portugal, they gave us a fantastic event and the whole of the Maxxis FIM Enduro World Championship agreed that the organisation was brilliant.
What They Said:
Brad FREEMAN (GBR-Beta): "It was a great day, but it wasn't without mistakes! Steve and I both made mistakes and fell several times. The hard work i've put in this winter has paid off with this overall victory in Enduro GP, it's just incredible… I'll try to do the same thing in Spain next week!"
Steve HOLCOMBE (GBR-Beta): "It was harder on Sunday. I am not overly satisfied with my physical condition lately. Nevertheless I remain satisfied with my result. Brad has been great and I have to congratulate him on this deserved victory. I now want to rest well and arrive next week in great shape. "
Alex SALVINI (ITA-Honda): "What a fabulous weekend! I came with the goal of making my mark in the E2 class. And now that I've achieved that I want to increase my general level and fight it out for victory in the EnduroGP class."
Davide GUARNERI (ITA-Honda): "This weekend was complicated but I am happy with my results, I led in the E1 class for a while and I was even temporarily on the podium in EnduroGP. I know my weakness lies in the Extreme tests, so I know where I have to work to improve my results."