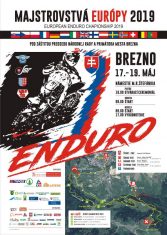 The European Enduro Championship changes to the second round of the four competitions into Slovakia, next weekend on 18th and 19th of May 2019: the former mining town also has a tradition in Enduro sport. For a long time, the "Sports Training Centre for Offroad Motorcycles" was one of the largest clubs in Slovakia. Numerous competitions took place here, an just last year on round to the Slovak and Czech Championships.
The riders and teams of the European Championship move to the historical market square in the middle of the city, where the paddock and the administration centre are located.
On Saturday and Sunday the more than 100 riders from 13 nations will be sent out for the three laps from 9:00 a.m. onwards. There are around 180 km to be driven daily and three different special stages to be completed in each lap.
The award ceremony will take place on Sunday from 17:00.
To set the mood for this international event, an official opening ceremony will take place on Friday evening at 6 p.m. – together with cultural performances and fireworks at the end.
Czech rider Kristof Kouble turned out to be the favourite at the season opener. Behind him are Albin Elowson from Sweden and Eemil Pohjola from Finland with equal championship-points. But in his Slovak home Thomas Hostinsky should certainly not be underestimated: the Husqvarna rider is already leading his class in the championship classification, the two-strokes up to 250 cc.
More information and schedules, results and links, there are always up to date and right on the official website:
http://european-enduro.com/
Dates 2019
6th/7th of April Góis / Portugal (www.goismotoclube.pt/)
18th/19th of May Brenzo / Slovakia (www.bmt1.sk)
29th/30th of Juni Madona / Latvia (www.lamsf.lv/en/sports
6th-8th of September Heinola / Finnland (www.hemk.net)