Overall-win to Kristof Kouble in Brezno / Slovakia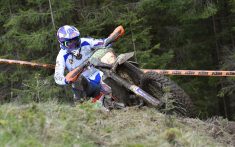 The Czech Kristof Kouble surprisingly won the second day of the second round of this year's European Enduro Championship in Brezno, Slovakia: The previous day's winner, Albin Elowson, have had led more than half the time, but a gearbox damage on his motorcycle caused the Swede to check out prematurely. Shortly before, his compatriot Mikael Persson, yesterday's third overall, had retired after a crash with electrical problems.
The only 19-year-old junior Rony Kytönen from Finland was able to finish second in the overall standings ahead of the Brits Jed Etchels. In this order was the overall standings over the two days and Kouble continues the championship-lead in the overall class.
Both top-riders also won their cubic capacity class: Kouble the junior class 2/3, Kytönen the junior class 1. Etchels starts as a junior with Kouble in the same class and therefore became second there.
The only Italian at the start was the former European Champion Maurizio Micheluz, who won the 250cc two-stroke class and finished fourth in the overall standings on day two. Directly behind him in fifth place was the only 17-year-old Max Ahlin, who finished fifth in the overall standings in the 125cc Youth Cup.
In the women's class, Audrey Rossat, the former European Champion of 2014, won: The French rider benefited from her great experience on the demanding course and ended the day with the least penalty minutes – all other women, if they ever reached the finish line, had also been late on the course.
Because of the bad weather with heavy rain, the organiser had defused parts of the track and the special stages. That was a good thing, because it was still difficult enough – in the end only 70 of the 107 participants who originally started on the first day crossed the finish line.
More information, plans, results, championships and further links are always available on the official homepage:
http://enduro-europa.com