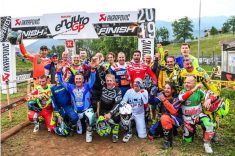 Bron: FIM. Since the beginning of the year, the FIM has been openly talking with the KTM Group and the party responsible for the existing "Extreme Enduro Series" in order to find a solution for the improvement of the Enduro discipline. We have offered to bring some of those races along with our World Enduro Championship, but after a lot of efforts and meetings, it has not been possible to reach an agreement.
The FIM will not be flexible in environmental rules, safety conditions, protection of our riders and controlling the sport.
Therefore, even we are still totally open to a fair agreement for the future, the FIM in accordance with the affiliated national federations from Spain, France, Italy, Germany, Austria, Romania, England and Portugal, have today agreed on the following:
1. From 2020, no IMN (official FIM event number) will be attributed to any event taking part in any series competing with the World Enduro Championship;
2. Therefore, the insurance program that goes automatically with FIM Licences will not be valid in the above mentioned events;
3. To launch as soon as possible two different tenders for 2021: one for the promotion of the Enduro World Championship and another for a new Extreme Enduro World Cup. By disclosing this, our objective is really to bring the Enduro family together and we hope everybody will go in the same direction.
Jorge Viegas
FIM President