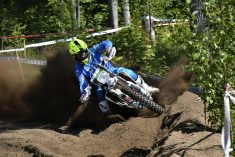 The final of the European Enduro Championship will take place next weekend in Heinola / Finland.
The former motocross world championship track has already hosted many international enduro competitions. From Friday, September 6, 2019, to Sunday, September 8, 2019, the European Championships will be staging their championships over three days. Two days are dedicated to the terrain and the special stages, on the last day there will be a final motocross contest for the last positions.
That's why the cross-country course in the north of Heinola is also the place for the paddock and the administration. And to make it even easier for the teams, the second time control will also be there, so that there will be short distances for all the staff.
But it won't be any easier for the riders: they will each have to complete three laps on the 55 km long track and complete every lap all the three different special stages.
The final decisions will then be made on Sunday at the final cross of the individual classes. Afterwards the medals for the European Championship will be awarded at the award ceremony.
Because it will take three days, 90 championship points will be awarded in this last competition. So theoretically the first 10 in the championship can become overall winners.
Czech rider Kristof Kouble is currently leading with eleven points ahead of Ronny Kytönen. But maybe the Finnish rider has a home advantage and can still beat his competitor? The 19-year-old had already managed this at the last race in Latvia. But that alone will not be enough for him this time, when the Czech takes second place every day. Kouble has to stumble at the same time to clear the way for Kytönen to win at home.
Find the livetiming in the internet: at https://live.kalkku.fi/
More information and schedules, results and links, there are always up to date and right on the official website: http://european-enduro.com/