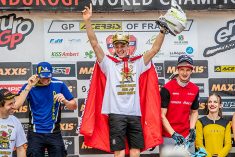 What an incredible day to end the 2019 EnduroGP season! With the supreme title of EnduroGP – overall Champion – still to be decided, Brad FREEMAN (GB-Beta) gave it his all. And at the tender age of 23 he has taken the first EnduroGP title of his career. This incredible day in the sport also saw the world E2 crown awarded, as well as the Women's World Cup.
Brad FREEMAN (GB-Beta) continues to fly the Union Jack high. He is also the first rider to end Steve HOLCOMBE (GB-Beta)'s reign. The young Brit, who is participating in only his second season in the senior classes, has shown a maturity and speed beyond that of many of his older rivals. We must also remember that this season has not been easy for FREEMAN, the Beta Boano rider broke his collarbone at the GP of Greece and had to ride in searing in pain to conquer this supreme title. In addition to his E1 crowns in 2018 and 2019, and his Junior crown in 2017, FREEMAN adds a 4th star to his list. All this bodes well for the future of the incredibly talented young rider.
What a performance from Loïc LARRIEU (FRA-TM) today! Encouraged and boosted by the French fans, he attacked all day on Sunday, winning no fewer than 6 tests. The TM rider intelligently built up his lead and kept an eye on his opponent's pace, upping his pace only when needed. LARRIEU takes his first world title, in E2, on home soil – what better way to do it?
LARRIEU also owes his performance to an exceptional Alex SALVINI (ITA-Honda), who pushed him to his absolute limits. SALVINI put the knife between his teeth, winning the first test of the day and pushing throughout Sunday's long and challenging race. The Italian made very few mistakes, and went into the lion's den of LARRIEU fans with all the bravery we would expect from him. 'Rocky' finished 2nd overall in a Grand Prix that could easily have turned out in his favour.
Steve HOLCOMBE also fought gallantly all day. Freshly crowned in the E3 class, Steve promised to throw everything into the ring to try and beat FREEMAN, but this year it simply wasn't enough. Steve at the head of the day's standings at the end of the second lap, could do nothing to stop the charge of Loïc LARRIEU and Alex SALVINI. He finished 3rd in this last GP of a difficult season.
Brad FREEMAN was 4th overall, doing 'just enough'. Meanwhile, 2018 Junior World Champion Matteo CAVALLO (ITA-Sherco) impressed everyone in his first Senior season, taking another Top 5 spot overall today.
The E2 class was extremely exciting on this second day of racing in France. Loïc LARRIEU became World Champion for the first time in his career, and in impressive fashion. Mastering the French terrain, he admitted he had to push all day. Alex SALVINI was a fantastic rival for LARRIEU, he always gives his all and fights with aggression and finesse. But the Italian once again had to swallow the heartbreak of losing out on the last day of the year. Behind this pair on the E2 podium was an ever-improving Joe WOOTTON (GB-Husqvarna).
In E1, FREEMAN won at the expense of CAVALLO and Davide GUARNERI (ITA-Honda).
Meanwhile, Steve HOLCOMBE won the last E3 race of the year in front of his super-consistent compatriot, Danny MCCANNEY (GB-TM) and the legendary champion Christophe NAMBOTIN (FRA-Gas Gas), who has just taken part in his last GP.
Junior & Youth 125: ESPINASSE & NAVARRO Winners
Theo ESPINASSE (FRA-Sherco) ends his 2019 season like a cannonball. The Sherco rider pocketed another win following his success in Uhlirske Janovice two weeks ago. He took today's victory ahead of Ruy BARBOSA (CHI-Husqvarna) and a quick Dan MUNDELL (GB-Sherco). ESPINASSE also won the J1 class in front of MUNDELL and Antoine MAGAIN (BEL-KTM). While J2 went to BARBOSA, in front of wildcard Jed ETCHELLS (GB-Sherco) and Léo LE QUÉRÉ (FRA-Sherco).
In Youth 125, Sergio NAVARRO (ESP-KTM) wins in the last round against Nathan BERERD (Fra-Husqvarna) by a second and a half. 2019 EY Champion Hamish MCDONALD (NZ-Sherco) closed out the podium positions.
Jane DANIELS On Top of the World.
Shy and quiet off the bike, Britain's Jane DANIELS (GB-Husqvarna) is absolutely ferocious on the tests. After a flawless weekend, she wins the Enduro Women's World Cup. As modest as talented, DANIELS was finally able to claim a title that has eluded her in the past due to misfortune or bad luck. In 2019, she proved she is the fastest woman in the world on an enduro machine. 2018 champion Sanna KARKKAINEN (FIN-KTM) didn't have an answer for DANIELS this weekend. Third on this world podium was Spain's Mireia BADIA (ESP-Beta).
In the Champion Lubricants Enduro Open World Cup, the 2019 season has been a great success. The category gave a chance for a large number of riders who dreamed of rubbing shoulders with the best in the world, on the same course! It is mission accomplished for the first year of the Open Cup!
For this last round of the season in Open 4-Stroke we saw the same winner as the day before: Belgium's Mathias VAN HOOF on his Beta. He took victory ahead of Robert RIEDEL (GER-KTM) and Dylan LEVESQUE (FRA-Honda). In Open 2-Stroke Gonçalo REIS (PRT-Gas Gas) concludes a brilliant season with another win. He was accompanied on the final podium of the year by Gomez BENET (ESP-Gas Gas) and Jorge PARADELO RODRIGUEZ (ESP-Gas Gas). In Senior, Andrea BELOTTI (ITA-KTM) doubled up and won for the second time this weekend. The same duo as the day before; Enrique GONZALEZ VEGA (ESP-KTM) and Patrik ANDERSSON (SWE-Yamaha) accompanied him on this Sunday podium.
The Acerbis Grand Prix of France brilliantly concluded an EnduroGP season that was in every respect remarkable. Given the level of competition, excitement, and unpredictability shown this year, all eyes are already on 2020!
What They Said:
Brad FREEMAN (GB-Beta): "That's it! We did it! I do not have a lot of words to describe what I'm feeling. This season was so complicated and tough, I can tell you that it took a lot of will to fulfil this dream. I am EnduroGP World Champion and it feels great!"
Loic LARRIEU (FRA-TM): "To win this title in front of the French public is something really special. This title represents a lot for me. I want to thank the entire TM Racing team, my entourage and my partners. It's a great reward after a year that was difficult with a new constructor and little preparation. It's just perfect, it's my year."
Alex SALVINI (ITA-Honda): "I got beaten again at the last race of the year, but this time it was nothing like what happened in 2018. This year the fight was really beautiful with Loic, and even though I am very disappointed not to be champion, I realised what I am capable of. This year was tough but I am happy to have managed to run my own team – we will come back even stronger."
Jane DANIELS (GB- Husqvarna): "At last I have won this title that I have been waiting for so long! I am really happy and I am very proud to bring this trophy home with me!"