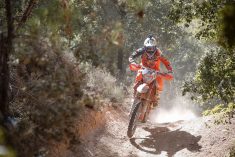 Solsona, Spain – October 5, 2019 — Josep Garcia takes an early lead at round seven of the World Enduro Super Series with victory on day one of BR2 Enduro Solsona in Spain. Delivering a masterclass in Classic Enduro racing, the Red Bull KTM Factory Racing rider ends the opening day of competition with a healthy 40-second advantage over teammates Nathan Watson (GB) and Jonny Walker (GB).
In what proved to be a top-five clean sweep for KTM, Manuel Lettenbichler (GER) and Taddy Blazusiak (POL) place fourth and fifth respectively.
Following Friday night's action-packed Super Test in Solsona, Saturday saw the 350-strong entry set out on what would prove to be a long and physical day of racing.
A lengthy liaison took competitors from Solsona to nearby Bassella, where they faced the Cross Test, Extreme Test and Enduro Test at the Bassella Experience centre. They then returned to Solsona to complete the loop. A second lap of the course – ending with an additional Super Test – ensured many tired and weary bodies on Saturday evening.
Garcia Out To Early Lead
Determined to maximise his Classic Enduro skills, Garcia quickly got down to business on Saturday after a mixed-outing in Friday's Super Test. Quickest on the opening Enduro Test and then again on the Cross Test, he ended lap one leading. Building on his advantage during the final lap, he returned to Solsona as the provisional overnight leader.
Behind him, Watson gave chase. Pushing hard, but not quite able to consistently match the Spaniard's pace in the Enduro or Cross Test, he had to be content with ending day one in second position.
Winning Friday's Super Test, Walker showed he's up to speed in the Classic Enduro discipline. Boosted by some of the fastest times in the technical Extreme Test, he starts Sunday in a strong podium position and within range of Watson.
Battle For Top-Five Remains Close
For championship leader Lettenbichler the opening day of racing went better than expected. Enjoying an exciting battle with Blazusiak and Walker, while setting some impressive test times, the German will look to hold off Blazusiak in the battle for fourth and maintain the pressure on Walker.
Ending day one just four seconds behind Blazusiak, Honda's Kirian Mirabet (ESP) will look to bridge that gap on Sunday. Showing more speed on the Cross Test, Mirabet will be pushing hard to claim fifth or better.
Yamaha's Cristobal Guerrero (ESP) had a difficult start to his day when a crash cost him valuable time on lap one. Regrouping, he worked his way back up the leader board to place seventh, but is less than 10 seconds behind Blazusiak, ensuring a close battle tomorrow for a top-five result.
Josep Garcia (KTM – ESP): "I had a really good first day here in Spain. I did make a few mistakes and crashed a couple of times, but thankfully it didn't affect my rhythm too much, I just lost a few seconds. Tomorrow I will try to stay on the bike all day and stay ahead of the others. Nathan is really fast and Jonny and Taddy are both really good in the Extreme Test, but my plan is to stay focused because it's going to be another long day."
Christophe Nambotin (Gas Gas – FRA): "The track was really good today – I haven't done the whole WESS championship so my start position was not so great. I had to start quite far back and it was difficult in the tests with all the dust for me. I made a mistake in the Enduro test and that cost me a lot of time. Overall, I am really enjoying it and it's good to race against the guys in front."
Cristobal Guerrero (Yamaha – ESP): "Things went well for me today, I did have one moment in the Cross Test where I started well but then lost the rear wheel on the big jump. I had a big crash and lost about 25-30 seconds. The last lap went better, my test times improved and so I'm happy with that. It's a tough day, the control is really long – about one hour and 40 minutes – and it's really tiring."
Pol Tarres (Husqvarna – ESP): "I'm still new to Classic Enduro so learning where and how to be fast sometimes is tricky for me. On the Enduro Test I'm happy – my position is not too bad. The Extreme Test went really well and my times were inside the top three. I'm losing out on the Cross Test but I'm gaining experience all the time and have a good feeling for tomorrow."
Sandra Gomez (Husqvarna – ESP): "It's always good to race with the guys at WESS, but today was really very tough. The track wasn't too tricky, but I found it hard to get used to it and push. I'm improving day by day but it's still difficult. My rhythm on the time control was good, but to change your pace when you get to the tests is difficult sometimes. Overall, it was a nice day, very long but I'm looking forward to tomorrow."
Results – Round 7: BR2 Enduro Solsona, Day 1
1. Josep Garcia (KTM – ESP) 45:49.650; 2. Nathan Watson (KTM – GB) 46:29.920; 3. Jonny Walker (KTM – GB) 46:45.240; 4. Manuel Lettenbichler (KTM – GER) 47:02.870; 5. Taddy Blazusiak (KTM – POL) 47:45.830; 6. Kirian Mirabet (Honda – ESP) 47:49.840; 7. Cristobal Guerrero (Yamaha – ESP) 47:54.760; 8. Jaume Betriu (KTM – ESP) 48:01.460; 9. Bernat Cortes (KTM – ESP) 48:15.280; 10. Tosha Schareina (Husqvarna – ESP) 48:24.220…
Photo credit: Future7Media
Website: iRideWESS.com
Red Bull TV: redbull.tv/WESS
Instagram: instagram.com/iRideWESS
Facebook: facebook.com/iRideWESS
Twitter: twitter.com/iRideWESS
WORLD ENDURO SUPER SERIES – 2019 SCHEDULE
Round 1: Toyota Porto Extreme XL Lagares (Portugal) May 10-12
Round 2: Trèfle Lozérien AMV (France) May 17-19
Round 3: Erzbergrodeo Red Bull Hare Scramble (Austria) May 30-June 2
Round 4: Hixpania Hard Enduro (Spain) June 21-23
Round 5: Red Bull Romaniacs (Romania) July 30-August 3
Round 6: Hawkstone Park Cross Country (United Kingdom) September 21-22
Round 7: BR2 Enduro Solsona (Spain) October 4-6
Round 8: GetzenRodeo (Germany) November 2