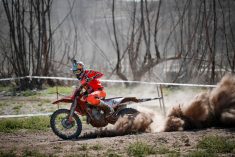 Solsona, Spain – October 6, 2019 — Spain's Josep Garcia (KTM) delivers a home win at BR2 Enduro Solsona for round seven of the World Enduro Super Series. The Red Bull KTM Factory Racing rider proved uncatchable as he led home Britain's Nathan Watson (KTM) and Jonny Walker (KTM) in second and third respectively.
Championship leader Manuel Lettenbichler (KTM – GER) extended his advantage in the standings with fourth, moving a step closer to becoming the 2019 ULTIMATE ENDURO WORLD CHAMPION. Yamaha's Cristobal Guerrero (ESP) rode an incredible final lap to snatch fifth from Taddy Blazusiak (POL) and deny KTM a clean sweep of the top-five.
Garcia Rules The Roost
Building on his winning momentum from Saturday, local rider Garcia locked his sights on victory at round seven. Starting out Sunday with a 45-second advantage over teammate Watson, he pushed hard from the off. Maximising his time on the Cross Test and Enduro Test, while limiting the damage on the technical Extreme Test, he controlled his lead to secure the top step of the podium.
With a sizeable deficit to Garcia, Watson always knew overhauling his teammate in Spain was going to be a tall ask. Keeping the Spaniard honest throughout, he cemented himself as the runner-up to ensure his second podium result in as many races.
Clearly demonstrating his Classic Enduro speed matches his Hard Enduro talents, Walker looked both fast and comfortable in the dry and dusty Solsona conditions as he battled for third. With time in hand over Lettenbichler in fourth, he maintained his third position.
Lettenbichler Extends WESS Lead
Entering BR2 Enduro Solsona, championship leader Lettenbichler initially hoped for a top-10 result among the many Spanish Classic Enduro specialists. But also proving that he's adept in the special tests, the German held on to a strong fourth position.
The battle for fifth was a close affair between Guerrero and Blazusiak. The Polish rider held fifth overnight and was determined to sign out with a top-five result. A crash on lap one of Saturday saw Guerrero fight his way back into contention.
Starting Sunday in sixth, he gained time on Blazusiak in the Enduro and Cross test, but lost time on the Extreme test. Putting everything into the final Super Test he managed to overthrow the KTM rider, beating him by eight seconds.
Honda's Kirian Mirabet (ESP) edged out Jaume Betriu (KTM – ESP) by just one second to take seventh, while Marzal Schareina (Husqvarna – ESP) and Ramon Quer (Husqvarna – ESP) rounded out the top-10.
The 2019 World Enduro Super Series concludes with the eighth and final round at Germany's GetzenRodeo on Saturday November 2. Watch the crowning moment of this year's ULTIMATE ENDURO WORLD CHAMPION live on Red Bull TV.
Josep Garcia (KTM – ESP): "It felt great to take the win here at home in front of all my friends and family. I couldn't have asked for more really. Yesterday I had a couple of crashes, but today went perfectly. I had to take a lot of care in the final Supertest but I knew I had some seconds to spare. The racing was so tight, Nathan has been close all weekend and also the Hard Enduro guys have been really quick here too. Naturally, I felt a little extra pressure coming here for my home event, but that only motivated me even more. Overall it's been the perfect weekend."
Nathan Watson (KTM – GB): "Josep was on fire here in Spain and really pushed hard, especially on that first lap yesterday. It was always going to be hard to catch him after that. But to finish second and earn more WESS points is a good weekend."
Jonny Walker (KTM – GB): "It's been a good race here in Spain, I'm really happy to get on the podium again. I'm starting to feel like I am getting back into a groove. The race started well with a win in the Super Test and I'm really pleased with how I rode on both Saturday and Sunday – I was on top of the extreme test. The plan now is to get a good result at GetzenRodeo and hopefully come away with second in the championship."
Manuel Lettenbichler (KTM – GER): "I feel so pleased right now. I came here with no expectations at all, even though I was feeling quite confident after Hawkstone. I thought top-10 would be a good result, so to finish fourth feels amazing."
Cristobal Guerrero (Yamaha – ESP): "Today I found my rhythm and was able to get fifth position. Luckily, I had a good final Super Test – I got a good start and was able to get in behind Josep. Thankfully that was enough to overtake Taddy for fifth place overall. I think having WESS here in Spain has been good for both the Spanish championship and WESS. It's good to see a lot of different riders racing and it's a very different race for the WESS championship too with a lot of variety between all the test. It's been a great weekend and I've really enjoyed it."
Results – World Enduro Super Series, Round 7
1. Josep Garcia (KTM – ESP) 1:26:16.000; 2. Nathan Watson (KTM – GB) 1:27:06.700; 3. Jonny Walker (KTM – GB) 1:28:42.870; 4. Manuel Lettenbichler (KTM – GER) 1:29:11.100; 5. Cristobal Guerrero (Yamaha – ESP) 1:30:08.760; 6. Taddy Blazusiak (KTM – POL) 1:30:17.120; 7. Kirian Mirabet (Honda – ESP) 1:30:51.560; 8. Jaume Betriu (KTM – ESP) 1:30:52.040; 9. Marzal Schareina (Husqvarna – ESP) 1:31:05.790; 10. Ramon Quer (Husqvarna – ESP) 1:31:35.700…
Championship Standings (After Round 7 of 8)
1. Manuel Lettenbichler (KTM – GER) 5110pts; 2. Jonny Walker (KTM – GB) 4240pts; 3. Josep Garcia (KTM – ESP) 4165pts; 4. Alfredo Gomez (Husqvarna – ESP) 4034pts; 5. Graham Jarvis (Husqvarna – GB) 3920pts; 6. Nathan Watson (KTM – GB) 3881pts; 7. Taddy Blazusiak (KTM – POL) 3850pts; 8. Mario Roman (Sherco – ESP) 3070pts; 9. Billy Bolt (Husqvarna – GB) 2725pts; 10. Pol Tarres (Husqvarna – ESP) 2520pts…
Photo credit: Future7Media
Embed codes to Red Bull TV clips and videos can be found here (please note clips will only be functional after publishing on RBTV).
Website: iRideWESS.com
Red Bull TV: redbull.tv/WESS
Instagram: instagram.com/iRideWESS
Facebook: facebook.com/iRideWESS
Twitter: twitter.com/iRideWESS
WORLD ENDURO SUPER SERIES – 2019 SCHEDULE
Round 1: Toyota Porto Extreme XL Lagares (Portugal) May 10-12
Round 2: Trèfle Lozérien AMV (France) May 17-19
Round 3: Erzbergrodeo Red Bull Hare Scramble (Austria) May 30-June 2
Round 4: Hixpania Hard Enduro (Spain) June 21-23
Round 5: Red Bull Romaniacs (Romania) July 30-August 3
Round 6: Hawkstone Park Cross Country (United Kingdom) September 21-22
Round 7: BR2 Enduro Solsona (Spain) October 4-6
Round 8: GetzenRodeo (Germany) November 2