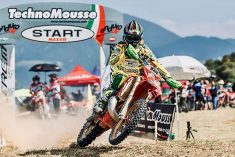 It's not long until the first round of the 2020 Championship which will take place in Marco de Canaveses in Portugal on 17 April. The moment has therefore arrived to have a look at the composition of the teams and understand for whom the world's best Enduro riders will be racing.
Obviously, we have to start with the Champion. Brad Freeman left the Boano Racing team after a collaboration that led him to the top of the discipline when he won the EnduroGP title. He is now joining the Beta Factory Team that will have a real dream squad in 2020. Apart from Brad, they have also signed the other English ace, Enduro3 Champion Steve Holcombe. However, the two of them are switching categories this year: Freeman will compete in Enduro3 and Holcombe will be in the running for the Enduro2 title.
Honda Racing RedMoto World Enduro Team has a completely new line-up with only Thomas Oldrati reconfirmed. Their new entries are Danny McCanney, who leaves Enduro3 to challenge himself in Enduro2, and Roni Kytönen, a promising and well-known Finnish rider who is aiming for the overall standing in Junior1 and, unlike last year, will have the support of a factory team this season. Additionally, Alex Salvini will go for victory in Enduro2 with the Sembenini team after having missed out on that title because of a few seconds last season.
The Lunigiana RedMoto Team will feature the English Alex Snow in Enduro1 and Dan Mundell in Junior.
The TM Factory Racing Team continues working with Junior1 World Champion Andrea Verona who will be competing in Enduro1 this year. It also welcomes the young rider Nathan Bererd, hoping that he will achieve the same results as Andrea. Enduro2 Champion Loïc Larrieu is confirmed who will try to defend his title against an even more ruthless competition.
Sherco Factory CH Racing was hit by bad luck during the winter break when Theo Espinasse injured himself and won't be able to participate in the upcoming season. The team confirms Matteo Cavallo who will be racing alongside the Belgian new entry Antoine Magain in Enduro1. In Enduro3, the new arrival Enric Francisco will be paired with Jack Edmondson who will decide at the last minute whether to race in Enduro3 or Junior2. The 2019 Youth Champion Hamish MacDonald moves up a category to attack Junior2, leaving his spot to the young Czech rider Krystof Kouble.
The Sherco brand also confirms its dedication to raising new talents with its Sherco Academy team lining up Léo Le Quere in J1 and Antoine Criq in J1.
The Boano Racing Team won't have Brad Freeman amongst its riders anymore but it's still focused on its mission to promote young talents and get them to achieve the best possible results. Apart from welcoming back Davide Soreca, who will be racing in E1, the brothers' team aims at launching other Enduro stars: Italians Matteo Pavoni and Lorenzo Macoritto in J1, the Australian Wil Ruprecht in J2, as well as Guy Nursela, Kevin Cristino, and Hermani Haljala in Youth125.
The Atomic Moto Team seems even stronger: the team's star remains Antoine Basset who will race together with Thibault Passet in Enduro3, while Max Vial will move from Junior2 to Enduro2. Kilian Irrigoyen will take Max's 2019 position in the Junior category. The racing side of the team will be completed again by the passion of Pierre Hourdin who will race in the Open Senior category again.
The Jolly Enduro Team will have its top rider Joe Wootton in Enduro2. He will be flanked by Ruy Barbosa in J1, as well as Tomas Clemente, Harry Edmondson, and Eloy DeGallardo in Youth125.
The Spanish Federation with its RFME team confirms its desire to rear riders able to continue what Ivan Cervantes has achieved for the Iberian region in this discipline. Pau Tomas Font in J1, Bernat Cortes in J2, and Alejandro and Sergio Navarro in Youth125 will have the best possible conditions to develop and aspire to the Enduro Olymp.
Finally, EnduroGP welcomes a historical brand like Fantic that lines up three young riders in Youth125 – European Champion Jed Etchells, Finn Hugo Svärd, and Italian Giuliano Mancuso – with its D'Arpa Fantic Racing team.
Last but not least.
Johansson MPE has confirmed his commitment among pros. The team will also focus on the goal of finding new talents and make them grow.
The EnduroGP riders will be announced soon and we will give voice to the Scandinavian team with more content for sure.