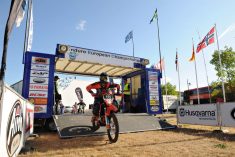 Unfortunately we have to inform you, that it will also not be possible to hold the Enduro European Championship race in Castel di Tora / Italy, which was planned for November.
The local club cannot guarantee to be able to present all necessary official permissions at the time of the event due to the current health situation. But because the organisation has to start already now, the club has cancelled the competition.
Therefore, there will be no race for the European Enduro Championship this year and no champion will be determined.
But ofcourse the dates for next year, for 2021, are already being coordinated internationally.