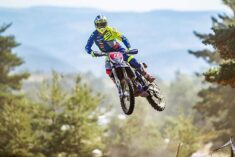 Despite the Covid-19 health crisis which has substantially postponed the start of the season, which was due to start in April, the FIM Borilli EnduroGP World Championship will finally resume this weekend at the Acerbis Grand Prix of France which will take place in Réquista.
Five years since the series' last visit to the town, the Réquista Moto Sport (Aveyron) club was tasked by the Fédération Internationale de Motocyclisme (FIM) and the Fédération Française de Motocyclisme (FFM) to organise this opening round of the Championship. This region is perfectly suited to the discipline and the Moto Club, highly motivated and chaired by Kévin PAGES, is a linchpin of the Aveyronnaise Classic as well as organising the 2015 World Enduro season finale, as well as numerous rounds of the French Championship.
The course will run for about 75 kilometres, made up of 3 laps, and Réquista Moto Sport Club wanted to create a difficult, technical and demanding event. The EnduroGP stars and the fans will be thrilled by the prospect of this true enduro. The paddock will be located next to the village hall and the special tests will be located in the surrounding area; the Cross Test will be held at Hôpital-Bellegarde, 6 kilometres from Réquista. The Champion Enduro Test will take place less than 600 meters from the paddock while the Technomousse Xtreme Test and the Akrapovic Super Test will take place in Réquista on the former autocross ground.
Réquista is located in the Aveyron department, in the Midi-Pyrénées region. This charming village in the Monts du Réquistanais of 2300 inhabitants is very close to the Roquefort cellars and is renowned as the sheep capital of the region. Réquista is located 42 kilometres from Albi, 48 kilometres from Rodez and 120 kilometres from Toulouse.
Heading For a FREEMAN – HOLCOMBE Dual?
Last September, Brad FREEMAN (GB – Beta) won his first EnduroGP title. In 2020, the official Beta Factory rider is clearly a big favourite for his own succession but the opposition is even higher and the Briton will have to stay in top form to aim for the double.
Indeed, EnduroGP Champion in 2017 and 2018, Steve HOLCOMBE (GB – Beta) will likely serve a the number one rival of his compatriot, and there's no doubt that the 'Beast of Exmoor' will want to get his hands on the crown.
The three-time World Champion will also have to be aware of the pace and skill of Loïc LARRIEU (F – TM), as well as Honda RedMoto's new recruit, Danny MCCANNEY (GB – Honda) and Alex SALVINI (I – Honda).
Keep an eye on the evolution of Matteo CAVALLO (I – Sherco) after a good first season in Senior, Thomas OLDRATI (I – Honda), Christophe CHARLIER (F – Beta), Davide GUARNERI (I – TM) and the 2019 Junior World Champion, Andrea VERONA (I – TM)…
FREEMAN will also aim for his first title in Enduro 3, the smiley Brit will have to watch out for riders such as Davide GUARNERI, Enric FRANCISCO (E – Sherco), Antoine BASSET (F – Beta) and David ABGRALL (F – Beta). We also see a return to action for three other riders in E3; Cristobal GUERRERO (Beta), Jaume BETRIU (KTM) and Rudy MORONI (I – KTM).
In Enduro 1, the reigning Champion (FREEMAN) has moved classes, leaving the title open to someone new! Among the favourites are the reigning Junior Champion Andrea VERONA and Eero REMES (SF – Yamaha), who, despite a disappointing 2019 season in E2, returns to his favourite category. Also watch out for riders like Thomas OLDRATI, Christophe CHARLIER, Antoine MAGAIN (B – Sherco), Alex SNOW (GB – Gas Gas) and Davide SORECA (I – Beta)…
After 4 seasons with the 300 2-stroke, HOLCOMBE has decided to launch a new challenge and move to Enduro 2! The challenge will be great given the number of contenders in this category. Starting with the reigning World Champion Loïc LARRIEU who intends to win a second title in a row! But this category will not be reduced to a duel between the Frenchman and the Brit, since we can also count Alex SALVINI, Danny MCCANNEY or Matteo CAVALLO among the favourites for the title. Add to that outsiders such as Hugo BLANJOUE (F – KTM), Joe WOOTTON (GB – Husqvarna), Anthony GESLIN (F – Beta) and Alessandro BATTIG (I – Honda) and the E2 category looks formidable this year!
Who Will Succeed VERONA?
Andrea VERONA has left the Junior class to move into the Senior ranks, and there are a minimum of 6 riders keen to be crowned in the Junior category: Wil RUPRECHT (AUS – Beta Boano), Theo ESPINASSE (F – Sherco), Ruy BARBOSA (CL – Husqvarna), Matthew VANOEVELEN (B – Husqvarna), Roni KYTÖNEN (SF – Honda), or Hamish MACDONALD (NZ – Sherco),
In J1, the battle will be good between BARBOSA, KYTÖNEN, MACDONALD and ESPINASSE.
In J2 too, it is difficult to pick a favourite among the 17 class entrants even if a few names seem to stand out such as RUPRECHT, VANOEVELEN, Matteo PAVONI (I – Beta Boano) or Léo LE QUERE (F – Sherco).
In the Youth 125cc class, there are no fewer than 21 riders committed to fighting for the world crown, among them the factory TM rider Nathan BERERD (F), the rookie Fantic rider Jed ETCHELLS (GB), Italy's Claudio SPANU (I – Husqvarna) or the NAVARRO twins (E – Husqvarna). However, they are not immune to the potential charge of Hugo SVARD (SF – Fantic), Harry EDMONDSON (GB – Fantic) or Hermanni HALJALA (SF – Beta Boano) who come to play 'spoilsport'.
This French Acerbis GP will be eagerly awaited by fans of EnduroGP but also by French Enduro fans who will undoubtedly be found cheering their heroes around the four tests. One thing is certain, Réquista Moto Sport club have prepared this breathtaking 2020 opening with passion and skill!
Practical Info:
– Réquista (Department of Aveyron);
– 119 km north-east of Toulouse;
– Friday September 18: Akrapovic Super Test from 18.00 CET
– Saturday and Sunday: Departures at 9:00 am – Arrivals around 4:30 pm;
– Organisation: Réquista Moto Sport;
– Website: www.endurogp.org
– Circuit: 75kms – 3 laps;
– Free admission;
– Airport: Toulouse – Montpellier
– GPS Point:
– Akrapovic SuperTest: N 44.038426, E 2.522243
– Technomousse Xtreme Test: N 44.038426, E 2.522243
– Champion Enduro Test: N 44.029106, E 2.535385
– Cross Test: N 44.039322, E 2.592969
– Paddock: N 44.034591, E 2.535869