Uitslag: Scratch / klassen
The best for the guests …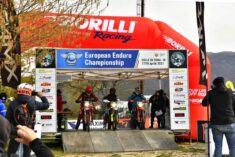 At the opening round of this year's European Enduro Championship in Castel die Tora, Italy, two riders, who normally do not compete in the European Championship, won: Italian Thomas Oldrati and his team mate Theophile Espinasse from France were also at the start with the Honda factory team from the World Championship. They used the competition "on their doorstep" to train under competitive conditions, because it is still two months before the World Championship starts. Promptly, the two Honda factory riders won first and second place. And actually, it could have been the first three places, but the third rider, the Finn Roni Kytönen, has had, by his own admission, "a stupid crash", which had thrown him back to fourth place.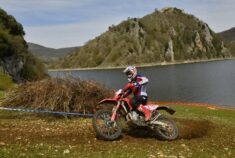 But the name Roni Kytönen brings to mind that the Finn had actually become European champion in the overall classification two years ago and then moved up to the Enduro World Championship.
However, the three guests do not get points for the European Championship and so the best rider in the European Championship is the Italian Diego Nicoletti on his Husqvarna.
Only six seconds behind is his compatriot, junior Enrico Rinaldi. Rinaldi placed ahead of Krystof Kouble, the rider from the Czech Republic who had even been fighting for the overall title until his injury two years ago. Kouble finished the day in eighth and fifth place respectively in the European Championship.
Maurizio Micheluz turned out to be a true old master: As the reigning champion in the small two-stroke class, the Italian once again won his class and moved up to sixth and third place respectively in the overall standings, directly behind Kytönen.
A total of 132 riders competed – a considerable number in view of the various international Covid requirements, as some riders had to stay at home involuntarily.