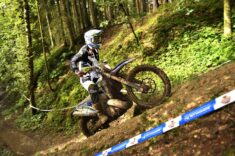 On the second day at the second round of the European Enduro Championship in Kozojedy, Czech Republic, the weather was definitely an issue. Although it was dry and warm during the day, the overnight rain had watered the track heavily beforehand.
But even under the more difficult conditions, it was the same riders who decided the victory among themselves: First and foremost local hero Krystof Kouble: "In the first lap it didn't go well at all. I crashed once in each of the three stages and lost time. Only after half of the competition did I really get going." But he forgot to mention, that despite the crashes, he had set the best time of all the riders.
For the other competitors also struggled with the demanding stages, which had become even more difficult due to the rain. Italian Enrico Rinaldi finished third on the unfamiliar terrain behind Dominik Olszowy and is right behind Kouble in second place in the championship both, in the overall as in the junior E2 class.
Once again, junior Pyry Juupaluoma from Finland showed a very strong performance: on the smallest displacement 125cc, he again rode to a sensational fifth place overall! The 18-year-old also won the junior class of the U21 riders again. He thus fought his way up to third place in his championship.
The already very demanding track was made a few notches more difficult by the overnight rain: The first lap in particular provided special challenges in the uphills but also in the downhills. Just how difficult it actually was is shown by the fact that almost half of all participants who started on Saturday did not reach the finish on Sunday in the classification. Only 66 of the original 123 riders were able to bring their bikes properly to the parc ferme at the end.
In the senior class, only six of the original 19 participants finished. Winner Martin Gottvald as well as the runner-up, Milan Skuta, were able to use their home advantage because they are used to such conditions.
Nevertheless, there were no complaints, because it was not impossible, as many riders have had shown. But the spirit of enduro racing, of fighting through and arriving at the finish, was again extremely cultivated here. No wonder that the Pole Dominik Olszowy felt so comfortable there: The guest rider, who usually focuses on the Hardenduro World Championships, used the race in the Czech Republic to prepare for the World Team Championships. In three weeks, he will compete for the Polish national team. The 21-year-old set the bar high with a second place in the overall standings on the second day of the race.
The next round of the European Championship, then even in Olszowy's home country Poland, will be after the "International Six Days Enduro" (ISDE) in September.
More information and schedules, results and links, there are always up to date and right on the official website: http://european-enduro.com/
Dates 2021
17th/18th of April Castel di Tora / Italy (www.italianoenduro.com/)
7th/8th of August Kozojedy / Czech Republic (www.czechenduro.cz)
18th/19th of September Kielce / Poland (www.ktmnovi.pl)
30th of September -2nd of October Hellendoorn / Netherlands (www.mcnh.nl)