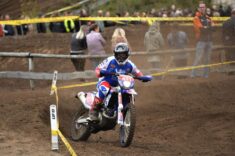 On Friday, 1 October 2021, at the final of the European Enduro Championship in Hellendoor, the Netherlands, the first champions were already determined on the first day of riding: The three riders Pyry Juupaluoma from Finland, Thiebaut Passet from France and Jaromir Romancik from the Czech Republic have so much lead in their displacement classes that it is impossible to catch them even on the last day of competition.
In fact, the finale of the European Championship already started on Thursday evening with a prologue on the deep sand motocross track of the organising Motorclub Nijverdal Hellendoorn (MCNH): Krystof Kouble, who is still fighting for the title in the junior class and in the overall ranking, won there. But the prologue counts only as the first of eleven stages of the first riding day and there he had to give up the lead to his Italian competitor Enrico Rinaldi at the end.
The championship in the classes, however, was decided by completely different riders on this day: In the class of the under 21-year-olds with the 125 cc bike, there is Pyry Juupaluoma from Finland, who is only 18 years old. The student also won this day in class and rode to a good ninth place overall for all riders: "It's a bit like home in Finland," said the Husqvarna rider: "Lots of sand and roots, we have that too."
In the large two-stroke class over 250 cc, Thibaut Passet won, securing his title early. At the end of the day, the Beta rider had a lead of more than half a minute over the day's runner-up Lukasz Kurowski from Poland. Passet's direct opponent in the championship, Jiri Hadek from the Czech Republic, only finished in third place and the Frenchman's lead grew to an unassailable distance.
But another rider from the Czech Republic was all the more pleased: In the class of four-strokes over 250 cc, Jaromir Romancik only finished fourth in the day's classification, directly behind his rival in the championship, Tom Elwood from England. The day's win went to Belgian Dietger Damiaens ahead of Dutchman Thierry Pittens, who already had a bit of a home advantage because they are used to the sandy surface.
Romancik, who had already travelled to Holland with a 24 championship points lead, the place behind Elwood cost him two points difference – but since only twenty points are awarded per day, this cannot be made up. But the Sherco rider had not calculated all this in his head, because with his fourth place of the day he had no longer believed in an early success.
The awarding of the championships in the other classes and also in the national ranking has thus been postponed to the last riding day, Saturday.