The collaboration between Maxim, a company that from this year will play the role of promoter of the Enduro European Championship, and Borilli Racing, a well-known Brazilian manufacturer of off-road tires, continues; After the profitable cooperation, which took place last year, Borilli Racing confirms its partnership with Monica and Tony Mori, this year within the 2022 Enduro European Championship. The name of the championship is going to be Borilli Racing Enduro European Championship.
Renato Borilli, CEO of Borilli Racing, thank to the success of last season with Maxim in the Italian championships decided to extend the working relationship even to the current year, the bond that for years has linked Italy with the Borilli family remains stable; in fact, Antonio Borilli, left Padua (Padova) to seek his fortune in Brazil and the great-grandson, Renato Borilli "came back" to Italy to show the results of his hard work. This year the collaboration moves internationally but it still remains connected to an Italian reality such as Maxim.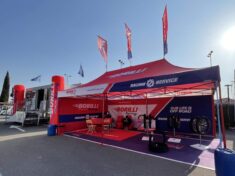 Borilli has been creating tires of the highest level for years, perfect for accompanying drivers along routes of all levels, giving both the professional and the amateur a tire suitable for all weather and terrain conditions, thanks to the wide range of products created by them. The research and continuous development in the production of tires allows the Brazilian company to create a perfect product for every type of competition thanks to a constant passion and love for the discipline that gives to the items in the range unique characteristics difficult to find elsewhere.
On March 19th, in the town of Pietramontecorvino (FO, Italy), the Borilli branded championship will open the curtain under the direction of Maxim who for the first time will direct the work of one of the most important championships by the discipline of clawed wheels that since the 60s has been dealing with creating high-level competitions that can be a springboard for drivers in the world of international Enduro.
Borilli Racing will be present at their side not only metaphorically but also physically; Borilli is going to be present at the inaugural race in Italy with a race service available to Borilli riders and for all those who want to deepen their knowledge of the quality of the Brazilian company's tires. In the next three rounds it's going to be a dedicated area inside the paddock in which you can see all the Borilli's product and learn more about them.
RENATO BORILLI – CEO Borilli Group –
"I'm so glad to be the main sponsor for the 2022 season of the Enduro European Championship. After the positive experience last year with Maxim, with whom Borilli was title sponsor of the Italian Enduro Championships, I chose to support this new project that sees them debut in the European championship as a promoter in an important way. As I have shown in recent years by sponsoring the highest national championships and the enduro world championships, I firmly believe in the importance of being part of the competitions especially for a technical product like ours. It's an excellent opportunity not only in terms of visibility but also in terms of study and product development. Today, thanks to the constant research and brand awareness work carried out in recent years, we are a leader in the Brazilian market and increasingly present in the European market where the Borilli brand has already become a reference product for off-road enthusiasts and synonymous with quality and high performance."
MONICA e TONY MORI – Maxim srl –
"We are really excited that an important and international brand like Borilli Racing wants to support us in our new project. The Enduro European Championship is a very important stage given the large market of professional drivers, amateurs and enthusiasts that it can reach. We want to sincerely thank Renato Borilli for believing in us once again and for giving confidence to our work."