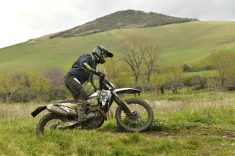 In the very last special stage, Belgian youngster Erik Willems took the overall victory of the first day of riding at the opening round of the Borilli European Enduro Championship at MOTOCROSS MARKETING ROUND 1#, in Pietramontecorvino, Italy.
Italian Enrico Rinaldi had been leading until the end: but the reigning European Junior Champion admitted that he was not fast enough in the cross test. His competitors, the Belgian Erik Willems and the Briton Dan Mundell, saw it the other way round. Above all, Mundel struggled in the over 10-minute long Eleveit Enduro test with slower riders in front of him: "I have such a late start time, so I had to overtake four to five riders each time, which of course cost a little time each time."
That added up in the end, leaving Mundel in a close position behind the two rivals. But all three riders were separated by just SEVEN seconds throughout the day and in the end, it was less than a single second. "I used all my motocross experience and made up over six seconds," Willems was able to announce afterwards as the day's winner in his E2-class and the overall: The Husqvarna rider, who is only 23 years old, had switched from motocross to enduro only two years ago. With this start into the new season, he has had set an example for the first time. He was followed by the British Beta rider Mundell, who was just 0.41 seconds behind. Only another 3 hundredths of a second behind was Rinaldi, who was a little happy because as the reigning champion he also won Junior Class 1 – but only a little happy because he was beaten by a narrow margin in the overall standings for all classes.
Not at all Italian were the outside conditions and the unusually low temperatures: In the first round all riders still had to struggle with the slippery mud on the track, but in the course of the day the conditions even stabilised and 94 riders of a total of 112 participants reached the finish in classification after three rounds.
Two of the five 50cc bikes that started, fought their way to the finish, but even the winner Nico Guastini was not without time penalties for being late at the checkpoints.
For the 50cc class, the championship will be decided tomorrow, Sunday, in the new 24MX 50cc Trophy, which will be held in just one round this year.