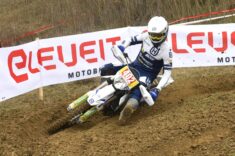 On the first riding day of the Borilli European Enduro Championship 2022, the ELEVEIT MOTOBOOTS ROUND 2#, in Tamasi, Belgian Erik Willems won again ahead of Englishman Daniel Mundell and thus extended his lead in the European Championship.
But it was a long day until then, which presented Willems with particular problems: "I hadn't eaten enough during the day. This gave me slight cramps at the end. We drove for more than eight hours, I'm not used to that. I still have to find the right balance there."
His toughest rival was Daniel Mundel, but he could not keep up the Belgian's pace in the cross stage. In the end, after the total of 12 special stages, his gap added up to 30 seconds, just half a minute.
In the E1 class, reigning champion Maurizio Micheluz switched from the Husqvarna two-stroke to the four-stroke of the same brand. – Obviously, however, this was able to upset the Italian, because he won the class again and rode to sixth place in the overall standings.
In the senior category, the Italian Alessandro Rizza dominated again on the smallest engine, a 125cc, against the more powerful competition.
In the women's class, Nive Holmes from England was still able to make up for her crash in the crosstest: "I fell down a slope and had to fight my way back up there, which cost a lot of time." But in the end of the day she was again 50 seconds ahead of Vilde Holt of Norway, who had finished second for the first time in her life.
The riders were lucky with the weather: After the rain and mud of the previous days, it stayed dry for more than half of the competition, before the light rain made the track very slippery again. But the precautionary modifications of the track were successful and there were no problems because of that.
But because snow has even been forecast for Sunday, the organizers shortened the competition to three rounds, so that the riders will only be on the road for just over five hours.