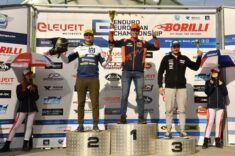 Overjoyed, the day's winner Dietger Damiaens from Belgium received the victory trophy in Hungary. The KTM rider himself was surprised at how strong he suddenly was after only one year in the European Championship.
Frenchman David Abgrall proved to be his fiercest competitor this time: without any mistakes, he repeatedly steered his Sherco almost to Damiaens' times, but in the end he was just 18 seconds off.
On the second riding day of the 2022 Borilli European Enduro Championship, the ELEVEIT MOTOBOOTS ROUND 2#, in Tamasi, the riders initially fought more against the weather than against the competition: snow had fallen overnight in Hungary,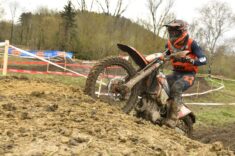 making the track particularly slippery. In the end, almost a quarter of the riders, who started, did not see the finish. In view of the weather forecast, the race distance had already been shortened from four to three laps.
The previous day's winner Erik Willems had problems of a completely different kind: From the beginning he had a dragging front brake, which sometimes blocked at the most inopportune moment. But there was not much time on the stages for him to change the brake system, so he fought his way to the finish with this handicap. In the overall standings, he slipped to sixth place for the day, but was still able to defend his lead in the championship at the current halfway point.
Right behind Willems was Maurizio Micheluz, the reigning champion of the two-stroke class: This time he started with a four-stroke bike, but on the one hand he was not so happy with the choice, but admitted that the conditions had also been particularly difficult: "I also crashed in the first round in the enduro test, which cost me a lot of time. But because the distance was shortened today, there weren't enough special stages to make up for that."
In the seniors, a sweep by Alessandro Rizzo is in the offing: The Italian seems to be uncatchable by the competition even with the small capacity 125cc KTM: At the halfway point he has won every day and already has a healthy points cushion for the championship because the competition is taking turns behind him.
The situation is similar in the women's category, where former motocross rider Nieve Holmes, of all people, is riding so strongly in the enduro test that she can even compensate for a one-minute time delay on the transport stage compared to her competitors.
Now there is a two-and-a-half month break in the European Championship before it continues in Finland in the far north on 23/24 June.