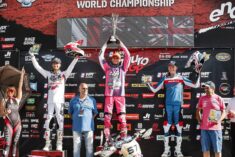 Ups voor Wil Ruprecht die op dag 1 de hele dag met Josep Garcia vocht maar het in de laatste drie proeven net moest toegeven. Op dag 2 had hij al 15 seconden voor op Garcia toen die nog even extra aanzette in de lange enduroproef en er daar hard afging. De proef werd stil gelegd en geschrapt en Garcia reed nog wel uit maar hij gaf veel punten toe.
Kaiya Brouwer bracht op dag 1 de motor netjes aan de finish met een 15e plaats in de J2. Op dag 2 is hij na twee proeven niet meer in beelde en dit was de reden:
"Dit weekend heb ik mee gedaan aan de EnduroGP in Italië. De proeven en route waren erg mooi en ik had er veel zin in.
Helaas is het weekend niet zo heel goed verlopen. Door slechte nachtrust en een antibiotica kuur waar ik vrijdag aan moest beginnen was ik moe en had ik weinig energie. Ik kon niet goed aanzetten in de proeven en ik maakte veel fouten. Op zaterdag is het me wel gelukt om de finish te halen. Op zondag ben ik gestopt na 1 ronde, omdat ik het niet meer veilig vond om zo door te rijden. Nu even een paar weken rust."
Jeremy Herrine (B) won op dag 1 de open 4 takt klasse; op dag 2 kwam hij ook niet aan de finish.
Dat deed oude bekende Werner Muller wel. Hij werd 3e op dag 1 en won op dag 2 de open-senior klasse.
Hieronder het officiële persbericht:
Wil Ruprecht Wins Drama-Filled Day Two At WPTGlobal FIM EnduroGP World Championship In Italy
TM Racing's Wil Ruprecht has claimed victory on the second day of racing at round three of the WPTGlobal FIM EnduroGP World Championship in Italy. With championship rival Josep Garcia (KTM) crashing heavily on the final JUST1 Enduro Test in Carpineti, Ruprecht rode clear to secure the win and with it extend his lead in the EnduroGP standings.
GASGAS Factory Racing's Andrea Verona finished as the runner-up in his home race, while Honda Racing Redmoto World Enduro's Nathan Watson claimed his first EnduroGP podium of the season with third.
Team Sherco CH Racing's Zachary Pichon again proved the rider to beat in the Enduro Junior class, while it was a debut victory for France's Thibault Giraudon (Sherco) in the ever-competitive Enduro Youth class.
* Wil Ruprecht wins day two at the GP of Italy to extend his championship lead
* Nathan Watson claimed his first EnduroGP podium of the season
* Day one winner Josep Garcia crashed heavily on the final JUST1 Enduro Test slipping to 16th
* Zachary Pichon made it six Enduro Junior wins from six start so far in 2022
After a hotly contested opening day of racing in Carpineti between TM Racing's Will Ruprecht and Red Bull KTM Factory Racing's Josep Garcia, all eyes were on the duo to see who would come out on top on Sunday. Ruprecht meant business and fired the first shot by winning the opening Super Test. Continuing his run of rapid form on the Just1 Enduro Test, Garcia topped the time sheets on the opening lap to take over the lead. However, it was short lived as Ruprecht won the following POLISPORT Extreme Test and ACERBIS Cross Test to lead at the end of lap one.
Knowing Garcia would strike back on the second JUST1 Enduro Test, Ruprecht had to deliver. And deliver he did. Setting the fastest time as Garcia faltered, the Australian had suddenly built himself a 13-second lead. That advantage remained stable for the next three tests, but the final Enduro Test was still to come.
Pushing hard to claw Ruprecht back in, Garcia ultimately crashed hard. Despite regrouping, he was visibly shaken as he limped home for an eventual 16th overall. Finding himself with some unexpected breathing room, Ruprecht went on to win the day and with it extend his advantage at the top of the FIM EnduroGP championship standings.
With Garcia slipping down the leaderboard, Andrea Verona capitalised and took his GASGAS to the runner-up result. Though not the winning result he hoped for on home soil, the Italian was more than pleased to better his performance from the previous day. Britain's Nathan Watson ended his day just 12 seconds behind Verona to claim his first EnduroGP podium of the season.
Setting the fastest time on the penultimate POLISPORT Extreme Test, Thomas Oldrati (Honda) capped off his home race with a strong fourth. Having switched to the Enduro1 category for the GP of Italy, Fantic's Daniel Milner clearly gelled well with his new bike, securing his second top-five result of the weekend with fifth.
Class wins for Verona, Ruprecht, and Persson in Italy
While hopes of a home EnduroGP win for Andrea Verona didn't materialise, the Italian secured yet another victory in Enduro1. The fight for the runner-up result was extremely close between Oldrati and Milner. Despite pushing for all his worth on the final test, Milner had to settle for third behind the Honda rider, missing second place by just five hundredths of a second.
The Enduro2 class saw Will Ruprecht claim a comfortable win. The Australian had the measure of his rivals, finishing 28 seconds clear of Watson in second. It was all smiles for France's Hugo Blanjoue with the KTM rider claiming his first major podium result in third. A rider who's growing stronger and stronger with each round, he'll be one to watch next time out in Portugal.
The GP of Italy continued to prove itself as a coming of age for Sweden's Mikael Persson. The Husqvarna Factory Racing rider secured his debut class win yesterday and then backed it up again today with another Enduro3 victory. The double victory now sits him as the new Enduro3 points leader. After placing third on day one, France's Leo Le Quere (Sherco) went one better to finish as runner-up on day two. With lots of new faces visiting the podium in Italy, Spain's Marc Sans Soria (Husqvarna) got his first taste of champagne glory with third on Sunday.
Pichon makes it six out of six in Enduro Junior
While the senior classes saw lots of movers and shakers, Enduro Junior remained consistent with France's Zachary Pichon (Sherco) riding to victory. Cementing himself as the rider to beat in 2022, Pichon has now secured six consecutive wins this season. Motivated by just missing out on a debut podium on Saturday, Beta's Luc Fragier was on flying form and improved his position, jumping from fourth to second. Sweden's Max Ahlin (Beta) held off Roni Kytonen (Honda) by one second to take third.
Another new winner emerged in Enduro Youth with Thibault Giraudon (Sherco) topping the podium. The Frenchman secured his first win by four seconds over day one winner Harry Edmondson (Fantic). Kevin Cristino (Fantic) completed the top three.
The WPTGlobal FIM EnduroGP World Championship continues with round four next weekend at the GP of Portugal in Coimbra-Souselas on July 1-3.
Wil Ruprecht (TM Racing):
"After a good fight yesterday with Josep I'm happy to have put in a good ride today to take the win. Of course, it's not nice to have a competitor take a heavy hit, so I hope he's all ok and good to go again. I'm happy with my riding, I had a few mistakes but we're racing right on the limit to win. We're back to Portugal next week, so I'm excited for that."
Andrea Verona (GASGAS):
"It's been a great weekend racing in front of my home crowd and to have so many people cheering for you on each test was incredible. I feel like I increased my rhythm and flow today and that my riding was sharp. Let's see what Portugal will bring."
Nathan Watson (Honda):
"It's been a good day. I struggled a bit yesterday, but today I got off to a strong start and was making time in the Enduro Test. It was nice to be in the fight like that all day."
Results – GP of Italy, Day 2
EnduroGP
Wil Ruprecht (TM Racing) 56:50.65
Andrea Verona (GASGAS) 57:06.87
Nathan Watson (Honda) 57:19.15
Thomas Oldrati (Honda) 58:00.75
Daniel Milner (Fantic) 58:00.80
Hugo Blanjoue (KTM) 58:12.00
Mikael Persson (Husqvarna) 58:14.19
Loic Larrieu (Fantic) 58:21.77
Leo Le Quere (Sherco) 58:24.15
Marc Sans Soria (Husqvarna) 58:26.83