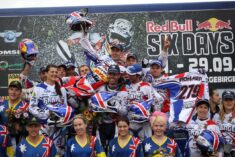 This year's FIM International Six Days of Enduro (ISDE) features a bumper Club Team entry list with competitors flooding to France from over thirty nations. But one fast trio of French riders everyone will be excited to watch for in Le Puy-En-Velay will be the Enduro Dream Team.
When it comes to Enduro, there are few competitors who equal the winning accolades of Pela Renet (KTM), Antoine Meo (Kawasaki) and Christophe Nambotin (Sherco). At the height of their professional racing careers, they were the riders to beat on track. More often than not they were only beaten by each other.
Collectively they won seven FIM ISDE World Trophy titles and have ten FIM Enduro World Championship victories between them. Now, ten years on since all three helped France to the 2012 FIM ISDE victory, while also finishing first, second and third in the overall results, it is time for them to return to the FIM International Six Days of Enduro.
"It is exciting to return to the FIM ISDE," tells Pela. "We just want to embrace the spirit of the race. For us, it is about having fun, enjoying the moment, and celebrating it with our Enduro family."
"At the end of last year I was speaking with friends about the FIM ISDE returning to France. We joked about racing it and then quickly realised that it would be an incredible moment not to miss. With my shoulder injury I didn't want to put myself forward, so Johnny Aubert was planning to race instead with Antoine and Christophe. But he recently had an injury, so I stepped in to take his place."
"It is cool that it has worked out like this. It is now ten years since we won the FIM ISDE in Germany. Christophe, Antoine and myself were first, second, and third in the overall too. In 2012 we were also the FIM Enduro1, Enduro2 and Enduro3 World Champions, so it is special to do this together in Le Puy-En-Velay."
Although maybe not in the peak condition they all once were back in 2012, all members of the Enduro Dream Team are still natural-born racers at heart. When the helmets goes on, they know how to go fast.
"My expectations are not too high for this year because I am old and slow now!" Pela laughs. "I had a serious shoulder injury a couple of years ago, so I don't ride a lot anymore. Personally, my goal is to reach the finish line and help the team as best I can."
"I think Christophe and Antoine will be more competitive. Christophe still rides a lot and is super-fast. When Antoine puts on a helmet, he is always fast."
Win, lose, or draw, you can be certain that when all is said and done in this year's FIM ISDE, beers will be enjoyed and stories will be told in the Enduro Dream Team camp.
"For sure there will be a big party," says Pela when quizzed about end of event celebrations. "That much is guaranteed at least!"