The final of the Borilli European Enduro Championship 2022 will take place on 29 and 30 October in Rüdersdorf, Germany, directly east of the capital Berlin.
The organising MC Woltersdorf already hosted the European Championship final in 2015, and even the Enduro GP has been held here.
The paddock is in the museum park, which depicts the eventful industrial history on site, especially the extraction and processing of limestone. The site offers space for the parc ferme in historic walls and space for a predominantly natural extreme test next door.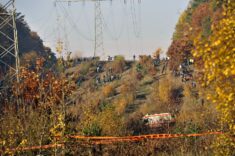 In total, there are three different special tests each on the 55 km circuit, which is run three times a day: Extreme Test, Cross Test and Enduro Test. The cross test is about 6 km away from the paddock and leads over a slightly sandy meadow course. The Enduro test is only 4 km away and has several ascents and descents through the middle of the forest. A course map is enclosed with this mailing.
Belgian Erik Willems has the chance to secure his championship title on the Husqvarna already after the first day of riding: His fiercest competitor, Brit Dan Mundell had a technical retirement in Sweden after a crash and so he is missing a lot of points. But first Willems has to finish ahead of Mundell.
In the individual cubic capacity classes, the points gaps are not that big, so that the champions will probably only be decided on the last driving day.
Traditionally, a Nations National Championship is also held at the finale: for this, there are the Trophy, Junior Trophy, Senior Trophy and Ladies Trophy teams of the individual countries. Germany has used its home advantage and is one of the favorites in the national teams with Edward Hübner, Jeremy Sydow, Tolman Krause and Luca Fischeder and in the juniors with Felix Melinkoff, Garry Dittmann, Tristan Hanak and Leon Thoms.
The award ceremony for the championships is on Sunday evening from 18:00, right on the grounds of the Museum Park.
In addition, the competition is also the final of the Vintage European Championship. The historic ambience on site fits perfectly with the also historic vehicles of this competition
Live timing can be found directly on the official homepage on both days, along with all the information, results, championship standings and more: https://www.enduroeuropean.com/