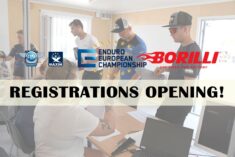 Bron: EK site
Registrations for the Borilli European Enduro Championship are officially open from today, February 22nd, and we have lots of news about it, let's go see them together!
The first big news of the season is related to enrollment in the whole championship! From this year there is the chance to be enrolled for all the races scheduled at once! Which are the benefits? Savings on the entry fee and no more thoughts throughout the year! In fact, you will be automatically enrolled in all rounds and you will no longer need to fill out the registration form for each individual event. You will only need to inform Maxim about any motorcycle and/or class changes, if they will be and also about your absence to a Round.
The registration form within the championship is available on the website www.enduroeuropean.com in the registration section. The total fee, discounted by € 20 per event, is € 720.00 to be paid in full to Maxim to the bank account details present in the registration form. Everything must be sent by March 15th, 2023. Registrations or payments made after that date will be subject to a €50 penalty.
Lees hier het hele bericht: EK site