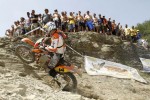 Knight Wins Day One at the EWC GP of Italy
David KNIGHT returns to his winning ways as he secures a much-welcomed victory in Enduro 3. Juha SALMINEN places his Husqvarna back on top to win Enduro 2 while KTM's Antoine MEO puts in a last lap dash to steal victory in Enduro 1 at the Maxxis FIM Enduro World Championship Scorpion GP of Italy.
After a six-week break since round four of the series in Portugal, the EWC returned to action with a bang at Castiglion Fiorentino, Italy. With temperatures reaching as high as 35 plus degrees, day one of the fifth round of the championship was a real test of attrition for all the competitors involved. Along with David KNIGHT (GB – KTM) winning Enduro 3, fellow British competitor Jane DANIELS (Husaberg) also reached the podium of theWomen's Cup in her debut EWC ride. In what was her first ever enduro competition; the 18-year old grabbed a sensational third overall in the Women's Cup.
However, there was also upset for numerous riders as the heat began to take its toll on both man and machine. France's Johnny AUBERT (KTM) was first to fall foul when a technical issue ruled him out on contention in Enduro 2. Britain's Jordan ROSE (TM) and Spain's Mario ROMAN (KTM) were also forced to retire due to injury. Finland's Juha SALMINEN (Husqvarna) returned to form in the Italian sunshine to claim victory in Enduro 2. Finding the dry, dusty and rocky terrain exactly to his liking, SALMINEN secured a well deserved win. "I felt comfortable all day and didn't have any problems. My speed was strong and I'm happy with how I rode," said SALMINEN after the podium celebrations. "Although Cristobalwas fast on the Enduro Test I was able to gap him on the other two tests to control my advantage. It's nice to win again and I hope to repeat this result tomorrow."As the only rider to challenge the hard charging Finn, Spain's Cristobal GUERRERO (KTM) ended his day as runner up. Setting some of the fastest times of the day o n the Enduro Test, GUERRERO finished less than 18 seconds behind the Husqvarna rider to card his sixth podium of the season. Behind the top two, championship leader Pierre-Alexandre RENET (Husaberg) fended off a late charge from Spain's Ivan CERVANTES (Gas Gas) to grab third. With CERVANTES ending his day in fourth, France's Antoine BASSET (Yamaha) delivered his best result of the year to place fifth.
The E2 Poodium In Enduro 3 Britain's David KNIGHT made a welcome return to the top step of the podium. Finding some fast and smooth lines in the crucial Extreme Test, the KTM rider was able to maintain his advantage throughout the day. Putting an end to Christophe NAMBOTIN's eight-race wining streak, he topped his class by almost 18 seconds."I didn't expect to win but it feels good to finally do so," smiled a very pleased KNIGHT. "I just tried to keep consistent today and managed to remain relatively mistake free. I'm so happy to finally be back on the top step of the podium."After what has been an incredible run of form so far this season, NAMBOTIN (F – KTM) was unable to match the pace set by KNIGHT an d had to be content with second. Hampered by a couple of small crashes, the Frenchman ended his day in second place. Sweden's Joakim LJUNGGREN (Husaberg) rode a lonely race to finish third. Finishing 30 seconds behind the leading duo, the Husaberg rider also placed almost 30 seconds in front of his teammate Oriol MENA (S). Enjoying the tough conditions, MENA beat Estonia's Aigar LEOK (TM) to place fourth with LEOK finishing 25 seconds further back in fifth.
First win of the season for David KNIGHT (GB – KTM)
France's Antoine MEO (KTM) made a last lap charge in the scorching Italian sunshine to record his eight victory of the season. Admitting to struggle with nerves during the early morning tests, MEO almost failed to finish when he crashed hard on lap two and twisted his knee. Strapping the injury, the Frenchman dug deep to overhaul the hard charging Husqvarna mounted Matti SEISTOLA (FI) to secure victory."My grandparent live quite close Castiglion Fiorentino so it felt like a home race for me. I put a lot of pressure on myself to win here and it caused me to make many errors," confirmedMEO. "I crashed hard on the Enduro Test and hurt my knee. After strapping it up, I pushed incredibly hard and managed to win."Showing that he has put his difficult start to the season behind him, Finland's Matti SEISTOLA lead the way throughout most of day one in Italy. However, unable to hold back the late charge by MEO, the Finn was forced to settle for second. Challenging SEISTOLA throughout most of the day, Finland's Eero REMES (KTM) finished just three seconds behind his fellow countryman to place third.Behind the top three, the Italian duo of Simone ALBERGONI (Honda) and Thomas OLDRATI (KTM) engaged in a daylong battle for fourth. With little to separate each other, OLDRATI eventually got the better of ALBERGONI to secure fourth and pushed the Honda rider back to fifth.
In Enduro Junior France's Mathias BELLINO (Husaberg) recorded his seventh win of the year. Building a lead during the opening lap, the Husaberg rider was forced to fight his way back into contention after a costly crash in the Extreme Test on lap three. Battling hard with Italy's Jonathan MANZI (KTM) during the final lap he narrowly beat his rival by 11 seconds to claim victory. Sensing a home win, MANZI pushed hard for victory on the final lap but couldn't beat BELLINO and finished as runner up to the Frenchman. Finding hot conditions similar to home, Argentina's Kevin BENAVIDES (KTM)completed the top three. Britain's Danny MCCANNEY (Gas Gas) was fourth, while Italy's Edoardo D'AMBROSIO (KTM) rounded out the top five.Italy'sGiacomo REDONDI (KTM) delivered a winning result to win the E nduro Youth class. Guido CONFORTI (I – Yamaha) was second with Matteo BRESOLIN (I – Husaberg) rounding out the top three.
Spain's Laia SANZ (Gas Gas) was the clear leader in the Women's Cup. Making light work of the technically demanding Extreme Test, she went on to claim victory by over five minutes. Unable to match the pace set by her teammate, France's Ludivine PUY (Gas Gas) finished a distant second. Keeping touch with PUY during the early part of the day, DANIELS held on to finish an impressive third overall. Sweden's Jessica JONSSON (Gas Gas) and Australia's Jessica GARDINER (Yamaha) completed the top five.