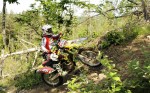 No home advantage for the french riders: Fastest rider at the european-enduro-championship in Bar sur Saine became the italian Maurizio Micheluz on the Suzuki. Micheluz, the reigning E3-Class-Champion changed this season bike and class: Now in der E1-Class the Italian rider have had his problems at the first round of the championship in his Italian home-country.
On the narrow and demanding tracks of the three tests could have been an advantage for the smaller bikes – because the second place overall was given to an other E1-rider, to the Swiss Jonathan Rosse. The regaining E1-Champion Luis Oliveira crashed in the enduro-test and lost the podium in this way.
In the E2-Class the Brit Tom Sagar won the first day: Without much pushing the KTM-rider did no mistakes and was rewarded with the victory! Up to the half time the leadership was to the german Marco Neubert – but he made several mistakes and took only second place.
Even in the E3-Class the victory was not to the french riders: First became Gianluca Martini in front of the swedisch Henrik Lindholm – and in all other classes, the juniors, the Veterans and the Ladies – no french rider as a winner!All in all the special-tests and the complete round was strange for the foreign riders – most time in the wood – very narrow between the trees and getting more and more bumpy. Together with the hot weather it became very tiring. At the evening a small rain cools down the temperature – and switches the track into a slippery on for the next day.All results, standings and fotos also on our website: www.european-enduro-championship.com