Aanmelden voor het enduro.nl Rookie-klassement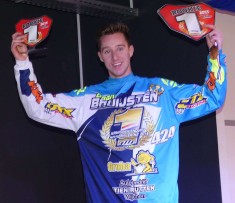 In 2015 ging Daan Bruijsten er vandoor met de gouden medaille, de 100 euro cash en het schone lucht pakket van TwinAir. Ook dit jaar zal een sporter worden uitgeroepen tot "Enduro.nl Rookie of the year". Die prijs is voor de snelste nieuwkomer bij de nationalen die dit jaar voor het eerst een endurolicentie heeft gekocht. Ook mogen deelnemen zij die vorig jaar pas tijdens de laatste drie wedstrijddagen zijn ingestapt, dus in Harfsen of daarna. Rijders die denken hiervoor in aanmerking te komen, moeten zich zelf melden op info@enduro.nl graag met startnummer.
Er wordt met een puntengemiddelde gewerkt, dus ook tijdens het seizoen je rijbewijs halen en meetellen voor dit klassement is mogelijk en biedt gelijke kansen op de hoofdprijs! Meer details hier!