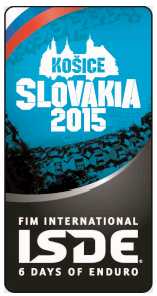 Slovakia set to welcome 90th edition from 7 to 12 september 2015
In twelve months time Slovakia will welcome the 90th edition of the FIM International Six Days Enduro (ISDE), as the oldest competition in the international calendar takes place in the city of Kosice from 7 to 12 September 2015. Having been absent from the country for ten years, this will be the fifth time that the ISDE has been held on Slovakian soil.
More than four hundred and fifty Enduro riders from over thirty countries are expected to descend on the city that is known as the 'Metropolis of the East'.Kosice is the second largest city in Slovakia and was the European capital of culture in 2013, so as well as a packed programme of racing, visitors will be able to experience this wonderful region and the various other supporting events that will create a wonderful backdrop to this historic occasion.
The Slovak Motorcycling Federation is looking to the challenge of hosting this prestigious event and to welcoming the riders, teams and their supporters from around the World to their special country.More details about the 2015 FIM International Six Days Enduro will be released in due course.