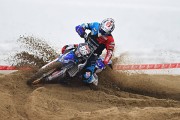 NAMBOTIN grand favorite ?
Next April 17th, the Maxxis FIM Enduro World Championship is back on track with the Grand Prix Acerbis of Chile that will be held in Talca, a city that the stars of the EWC know pretty well. Two weeks before the kick-off of this new season, let's make a large overview of the different categories. Today, let's go with the Enduro 1…
The favorites
– Christophe NAMBOTIN (F – KTM): ln 2014, the KTM official rider has cool off everyone who was thinking he couldn't adapt quickly to the 250 EXC-F. Now, it's the confirmation year for the French who will look for a fourth title in a row! But, contrarily to his rivals, this Grand Prix of Chile will be the very first race of NAMBOTIN… Will he find the way to dominate his rivals from the first GP?
– Eero REMES (SF – TM): Brilliant 2014 Vice-Champion, Eero REMES is back on his TM for the third consecutive year. And when we take a look to his first results in the Italian Championship, the Finn is already physical in good shape and will try to take an advantage of it in Talca… Only rider to beatNAMBOTIN last year, will he be finally a serious title contender?
– Cristobal GUERRERO (E – Yamaha): CG96 has made the buzz during the offseason, coming back to Yamaha after four years with KTM… After so much noise, the very first Junior World Champ' will have to make great results. If the bad luck leave the Spaniard, he could be very dangerous in the handlebar of the brand new Yamaha 250 WRF of the Yamaha Miglio Yamalube team…
The outsiders
– Anthony BOISSIERE (F – Sherco): Injured to a vertebra during the off-season, "Toto" will not be attending the first Grand Prix, but, there is no doubt that the French will fight for the podium when he'll be back to the competition! 5th in 2014, the Sherco rider will also have to compose with the consequences and aftermath of his injury…
– Daniel MCCANNEY (GB – Husqvarna): The Junior World Champion arrives in Enduro 1 for his first Senior season! From Beta to Husqvarna to join his brother, Jamie, he gives already some worry to the other riders of the class. But does the adaptation of "Danny Mac" will as good as PHILLIPS one a year ago?
– Lorenzo SANTOLINO (E – Sherco): With Jeremy TARROUX (F) going to E3, the Sherco official team has decided to enter "SANTO" in the small engines. Brilliant 4th E2 in 2014, the 2011 Junior World Champ' could quickly pretend to some podiums if he has a quick adaptation to the Sherco 250 SEF.
– Marc BOURGEOIS (F – Yamaha): "MacFly" is back! After two seasons 100% focused in "classics" and his National Championship, BOURGEOIS is back on the EWC… Clinching a podium in Brioude at the end of last season, the French has the talent to fight among the five best riders of the category but his two years break could play tricks on him…
– Rudy MORONI (I – Sherco): The new Fabrizio AZZALIN rider made brilliants debuts last season in the Senior class, signing a nice 5th place in Sweden… 8th in the overall, "BOMBER" will look to continue is learning while playing the spoiler…
– Simone ALBERGONI (I – Kawasaki): The most experienced rider of the paddock continues for one more years with the M.C.T Motorace team (former Marquis) and will ride on a Kawasaki in 2015! The Italian should arouse curiosity in the category and will try to show he can still be in the first five places… especially if the weather is on his side!
We can't forget them…
– Edward HUBNER (D – KTM) who after an interesting start of 2014 season has disappeared… Integrated to the KTM Supported team, the German will have the Top 10 as main goal!
– Jonathan MANZI (I – Gas Gas) signs his come back to the Championship after a one-year break…MANZI will look to make shine his Gas Gas all along the season!
– Gianluca MARTINI (I – Yamaha) is the second rider of the official Yamaha Miglio team and will look to improve after some nice results in Junior more than a year ago and also after a nice European title…
– Kjetil GUNDERSEN (N – Honda) who, after an interesting test last year must be present on each European round and will look to know his real level.
This 2015 season will be full of suspense. With the arrival of Danny MCCANNEY and Lorenzo SANTOLINO, plus the ambitious return of Yamaha, the race for the 2015 E1 World Champion crown will be really open and we could have also some surprises… despite the machine NAMBOTIN!
The E1 World Champions since 2004
2014 : NAMBOTIN (KTM – France)
2013 : MEO (KTM – France)
2012 : MEO (KTM – France)
2011: SALMINEN (HVA – Finland)
2010: MEO (HVA – France)
2009: AHOLA (Honda – Finland)
2008: AHOLA (Honda – Finland)
2007: SALMINEN (KTM – Finland)
2006: CERVANTES (KTM – Spain)
2005: CERVANTES (KTM – Spain)
2004: MERRIMAN (Yamaha – Australia)