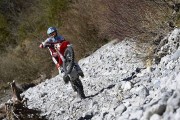 The Big Category !
Not so many changes this year in the « Big » category of the medium engines (250 2 strokes and 450 4 strokes) with only the departure of Lorenzo SANTOLINO (E – Sherco) in Enduro 1 and the arrival of Deny PHILIPPAERTS (I – Beta) and Loïc LARRIEU (F – Sherco) and also some young guns with long teeth. Once again, the E2 Class will be played between four great riders: Alex SALVINI (I – Honda) and the French trio Pierre-Alexandre RENET (HVA), Antoine MEO (KTM) and Johnny AUBERT (Beta)…
The favorites
– Pierre-Alexandre RENET (F – Husqvarna): The Champion put his title into play in this category he likes. But the French will have to deal more than ever with his three rivals in order to win his third title. But he has to be careful not to fall into complacency as in 2013 after his first title…
– Alex SALVINI (I – Honda): The biggest Italian title hope wants to recover his property and has realized a very serious off-season… In rhythm during the three round of the Italian Championship, "Rocky" will start the season on a terrain, Talca (Chile), that bring him luck in the past. We hope that he is finally done with this bad luck to spoil him during the start of the 2014 season.
– Johnny AUBERT (F – Beta): For his second season with Beta, Fabrizio DINI and the entire Italian team have places a lot of hopes on the two times World Champion. Third last year, he will look to offer a first victory to the Tuscany firm and also to fight for the title while avoiding mechanics and physical troubles.
– Antoine MEO (F – KTM): We left the "Alligator" during the Grand Prix of Finland after a huge crash that ruined his title hopes! We find him back hungrier than ever, more challenger and well prepared… Over-dominating in the Assoluti d'Italia, MEO is looking to send a strong message to his rival and he will have to confirm it during the Grand Prix of Chile… RENET, SALVINI and AUBERT, have to beware, MEO, who's also the rider delegate, is back!
The outsiders

– Oriol MENA (E – Beta): The 2009 Junior World Champ' is back with Beta for a second season and continues the adventure in a category where he finished 5th last year… The Top 5 seems once again affordable for the Catalan if he is not making too much mistake.
– Mirko GRITTI (I – Kawasaki): For his come back to the EWC, the Italian has realized a very encouraging season with a 8th final rank… This season, GRITTI, stays with M.C.T Motorace, but has to change bike and will have to adapt to the Kawasaki, but he still can have his word to say for a place in the five best riders.
– Romain DUMONTIER (F – Yamaha): Last year, the French impressed by his capacity to manage his private team while make some nice performances like his podium in Brioude during the final. If everything goes well for "Dudu", he has some nice chances to fight with MENA and GRITTI…
– Victor GUERRERO (E – KTM): The 2014 season of the second GUERRERO brother has been difficult… No doubt, the Spaniard will look to take his revenge!
– Jaume BETRIU (E – Husqvarna): Brilliant 6th in E1 for his second EWC year, the sympathetic Catalan can clearly look for the Top 5… But to do so, the Husqvarna rider will have to step up as he did during the Spanish Championship.
– Loïc LARRIEU (F – Sherco): After a last Junior year finished with an honorable 3rd position,LARRIEU will have to firstly adapt to his new bike: a Sherco. If he does so, the former MX rider will have his word to say in the Top 5 when we take a look to his talent…
– Jamie LEWIS (GB – Sherco): After a very nice first season,  LEWIS can continue to surprise on the handlebar of a well-prepared Sherco by Mick SEWARD and the MPS Racing team.
We can't forget about them…
– Nicolo MORI (I – KTM), Eloi SALSENCH (E – Gas Gas) and Rannar UUSNA (EST – TM) whose, like LARRIEU, arrive from the Junior Class. They will look to grab a lot of experience possible for the next seasons…
– Deny PHILIPPAERTS (I – Beta), who after a difficult season in E3, will look to come back stronger and for a Top 10…
– Romain BOUCARDEY (F – TM) who after some nice results last year will look to continue in the 4 Grand Prix he will be racing…
– Xavier DE SOULTRAIT (F – Yamaha) who's out from a very nice Dakar and will look to clinch some Top 15 when he will be there.
– Nicolas DEPARROIS (F – Husqvarna) who will be present in Belgium and France but will want to prove that he is not "over" as some people already think…
2014 has been rich in emotions in this Enduro 2 class that is considered as the "main" class and 2015 will be, for sure, on the same step with much more suspense. With riders like Pierre-Alexandre RENET, Alex SALVINI, Antoine MEO or Johnny AUBERT, the race for the title should be intense for the thousands of spectators awaited in each Grand Prix.
The E2 World Champions since 2004
2014 : RENET (Husqvarna – France)
2013 : SALVINI (Honda – Italie)
2012 : RENET (Husaberg – France)
2011: MEO (HVA – France)
2010: AHOLA (Honda – Finland)
2009: AUBERT (KTM – France)
2008: AUBERT (Yamaha – France)
2007: AHOLA (Honda – Finland)
2006: ARO (KTM – Finland)
2005: ARO (KTM – Finland)
2004: SALMINEN (KTM – Finland)