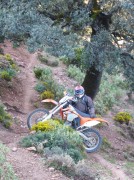 Howdy folks.
We have had a great winter season with many new faces coming to ride, and a few of the regulars here as well.
Thanks to all who have been part of the Riders of the Lost Trail experience.
The frosty mornings are starting to become a thing of the past and Spring is positively here.
We love this time of the year here in Southern Spain, warm, without being too hot, and endless blue skies.
***
"Hills……we love 'em!"
We are blessed here in the mountains of Southern Andalucia. We have hills…and lots of them. The area around our base in Cortes de la Frontera is blessed with some incredibly varied riding including plenty of ascents and therefore descents.
We have hill climbs for first-time dirt bike novices, and also some pretty challenging climbs for the more expert rider.
***
New avenues to generate more profit
Inspired by motorcycle practices in the Far East, Riders of the Lost Trail will be offering discount for the new season if we can squeeze eight or more riders onto one of our EXC 350s. We will be happy to offer a 8.49% discount off all published prices. With seven being the maximum amount of bikes we have, we are aiming to increase our largest group size from seven riders to…….well…….seven riders, but with seven pillion passengers per bike.
We will be happy to provide the 'safety buckets' for a small extra fee.
Fork advice
The maintenance of our small fleet of KTMs is an incredibly important aspect of the running of Riders of the Lost Trail.
We strive to provide the best quality bikes, that are always in 'tip top' condition for our riders.
Through spending hours working on our machines, we thought we would share a tip on fork maintenance.
In our experience, in about 95% of cases of fork seals leaking oil the solution is very simple.
Here's a method that nearly always does the trick: by removing and cleaning of the dust seals and then using KTM's own 'Fork Seal Doctor' to push up under the oil seal and then rotating the tool to clean any debris from under the seal. The forks need to be compressed a few times to re-seat the oil seal, and then the newly cleaned dust seals can be re-fitted.
Exciting news! Our own private enduro loop
We have just secured the use of an ex 4 x 4 track on a private farm and have exclusive access to this great practice circuit.
With the help of David Johnson, who last year came 2nd in the over 50's British Enduro Championship, we have worked out a 1.5 km enduro loop.
The loop is tight and technical, and includes a bit of everything from mud, to logs, to tight corners and uphill and downhill sections.
We feel this is a fantastic addition to the extensive routes that we already ride, and is a great place to go and play for a few hours to practice those bike handling skills.
***
It's wonderful here…what are you waiting for?
We pride ourselves here at Riders of the Lost Trail in providing the very best off-road trail tours possible.
We only run small groups, with seven riders being the maximum.
We have fantastic KTM bikes to ride.
We offer the very best riding gear money can buy including Klim trousers and jackets.
One of our recent riders wrote this as part of his testimonial:
"So ….. You read the testimonials and sometimes you don't quite believe them though you should !
_Great host and guide in phenomenal scenery and trails with top class equipment and accommodation."
So if you would like to experience a large dose of adventure in the incredibly beautiful wilderness of our surrounding mountains, then get in touch with me directly at:
info@ridersofthelosttrail.com
or take a look at our website for more information at: