VIDEO SUPERTEST.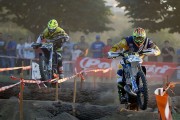 This Grand Prix Polisport of Portugal KTM Super Test has been a great success on the spectators side, that were numerous in the riding center of Gouveia, but also on the sport side where we had some great suspense but also surprising happening that could already change the face of this weekend…
While Josep GARCIA (E – Husqvarna) won the FIM Youth Cup 125cc over his rival Mikael PERSSON (S – Yamaha) and Frenchman Valerian DEBAUD (Yamaha), Kirian MIRABET (E – KTM) signed his second consecutive KTM Super Test win and beat Giacomo REDONDI (I – Beta) and Steve HOLCOMBE (GB – Beta)…
Then arrived the Senior classes, where Matti SEISTOLA (SF – Sherco) and Mathias BELLINO (F – Husqvarna) offered us an exciting duel. After a bit more than a minute thirty timed, it's the 2012 Junior World Champ' who get the win for only 91 hundredths! Then came the E1 class stars… while Simone ALBERGONI (I – Kawasaki) impressed by signing the best time, 1'33''34, current leader Christophe NAMBOTIN (F – KTM) crashed and worried… We spoke with him under the KTM Truck after his mechanic brings him back on the bike from the Parc Ferme: "On the second day in Chile, I injured my knee ligaments. It's even maybe broken… But it was better and I had no problem with it during the French Championship and last weekend in Spain. But tonight, I injured it again. We'll see tomorrow…" confessed NAMBOT'.
This KTM Super Test was decidedly the one of the outsiders. Indeed, after ALBERGONI in E1, it's Loic LARRIEU (F – Sherco) that surprised everyone in Enduro 2 class and get the 9 seconds bonus ahead of Alex SALVINI (I – Honda) and Antoine MEO (F – KTM)…
At the end of this night, it's the "specialist" Mathias BELLINO who get the win, 1'31''02, over his E3 rival Matti SEISTOLA and Loïc LARRIEU.
In the Women Class, Laïa SANZ (E – KTM) has dominated again the Super Test over Brit Jane DANIELS (GB – Husqvarna) and the smiling Jemma WILSON (AUS – Yamaha).
Now all the riders, spectators and organizers, that have made a fabulous work, are ready to fight and enjoy the race tomorrow from 9.00 in the special tests of Gouveia…