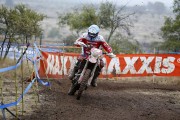 Already important? Only a few days after a very intensive Grand Prix AMV Seguros of Spain, the Maxxis FIM Enduro World Championship continues its usual tour on the Iberic peninsula, taking the road to Portugal, more precisely in Gouveia, town situated on the East of the second biggest city of the country: Porto.
The FIM gave to the Nacional de Motociclismo Portugal (FMP), chaired by Manuel MARINHEIRO, the possibility to organize this event. And it's the brave Club Natureza Eventos that will have to make of this Grand Prix Polisport of Portugal a great event. This Club, chaired by Jose BRITO, is not a newcomer on the EWC as they already organized a Grand Prix in Ourem and also in Fatima. They also organized many round of the Portuguese Championship… It's a very dynamic Moto Club that will be helped by Pedro MARIANO (FIM Race Director) for the sports part and by Foz Motor for the communication.
Natureza Eventos has drawn a 48 kilometers track that the riders will have to ride 3 times a day with only one Time Check. The paddock will be situated in « Senhora dos Verdes » (8 kms from Gouveia) just like the three special tests of the weekend: the Cross Test, the Enduro Test and the Xtreme Test. A perfect and compact choice that will permit to the spectators to follow the race from start to finish like in Chile a month ago. The KTM Super Test will be held in the center of Gouveia.
Small city in the North-East of Portugal, Gouveia has approximately 15 000 inhabitants. This town from the district of Guarda is situated 168 kilometers from Porto and 92 kilometers from the Spanish frontier. Nice city from the Center region of Portugal, Gouveia is situated on the foothill of the biggest Mountains of Portugal (until 1300 meters) and in the North point of the National Parc of Serra da Estrela…
Will PHILLIPS react?
Arriving in Portugal with a very first double victory in the E3 category, Mathias BELLINO (F – Husqvarna) is ready. But the 2012 Junior World Champion can also have some disappointing and surprising results when he is confident. That's why he has to remain 100% concentrate as Matti SEISTOLA (SF – Sherco) is only 6 points behind! Moreover, a group of six riders dreams to get a win in this Grand Prix Polisport of Portugal. Indeed, with SEISTOLA, Matthew PHILLIPS (AUS – KTM), Manuel MONNI (I – TM), Jonathan BARRAGAN (E – Gas Gas), Aigar LEOK (EST – TM) and Thomas OLDRATI (I – Husqvarna) proved in Jerez de la Frontera they have the speed to stop the leader of the class but they have to be much more consistent…  Jeremy TARROUX (F – Sherco),Luis CORREIA (P – Beta) and Antoine BASSET (F – Gas Gas) can also join the fight for the podium while Jeremy JOLY (F – KTM) is progressively recovering his confidence. On his side, Ivan CERVANTES (E – KTM), will look to save some point before maybe undergoing to surgery….
After an unstoppable double in Jerez de la Frontera on his KTM 250 EXC-F, Christophe NAMBOTIN (F – KTM) will look to dominate the E1 Class and this start of season again. But we hope that Eero REMES (SF – TM) will do everything to stop the good start of season of the three times World Champion. Just like Cristobal GUERRERO (E – Yamaha), good last weekend, that will look to do more this week. On their side, the French Marc BOURGEOIS (Yamaha) and the Brit Danny MCCANNEY (Husqvarna) will have to react after a deceiving GP of Spain… Simone ALBERGONI (I – Kawasaki) will look to get closer from the podium on the handlebar of his Kawasaki just likeLorenzo SANTOLINO (E – Sherco) that wasn't so far of it on Day 1.
Trying to stop MEO…
In Enduro 2, after another perfect weekend of Antoine MEO (F – KTM), his rivals have no choice now. With 14 points behind for Pierre-Alexandre RENET (F – Husqvarna), 18 for Alex SALVINI (I – Honda) and more than 28 for Johnny AUBERT (F – Beta), these three riders will have to give it all in order to reduce the gap before the mid-season… Behind these four men, the outsiders Jaume BETRIU (E – Husqvarna), Loïc LARRIEU (F – Sherco), Victor GUERRERO (E – KTM), Deny PHILIPPAERTS (I – Beta) and Oriol MENA (E – Beta) should offer a nice and exciting battle for the last Top 5 spot. Romain DUMONTIER (F – Yamaha), Nicolo MORI (I – KTM) and Rannar UUSNA (EST – KTM) will have to step up if they want to join the fight while Portuguese spectators should have eyes only on local rider Gonçalo REIS (P – KTM).
In the Under 23 category, Giacomo REDONDI (I – Beta), Alessandro BATTIG (I – Honda) and Portuguese Diogo VENTURA (P – Gas Gas) and Luis OLIVEIRA (P – Yamaha) will have to stop the impressive ride of Husqvarna rider Jamie MCCANNEY (GB – Husqvarna) if they don't want to be too far for the remainder of the season. Moreover, new recruit of Beta Boano team, Steve HOLCOMBE (GB) could be once again one of the nice stars of the category! In FIM Youth Cup 125cc, Josep GARCIA (E – Husqvarna) will have to be strong against Mikael PERSSON (S – Yamaha). Behind these two guys, nearly six riders can pretend to the last step of the podium: Luca GARELLO (F – Yamaha), Jean-Baptiste NICOLOT (F – Yamaha), Valerian DEBAUD (F – Yamaha), David ABGRALL (F – Yamaha), Jack EDMONDSON (GB – KTM) and Luc MALIGES (F – KTM).
Finally, the Women Cup will be present in this Grand Prix Polisport of Portugal. Laïa SANZ (E – KTM) will look again to bring the colors of the Austrian brand on top of the podium while Jessica GARDINER (AUS – Sherco) and Jane DANIELS (GB – Husqvarna) will fight for… the second place! Jemma WILSON (AUS – Yamaha) will have to keep the good Spanish pace if she wants to keep her 4th rank against riders like Blandine DUFRENE (F – KTM) and Samantha TICHET (F – KTM).
This Grand Prix Polisport of Portugal is really awaited and local fans are ready to vibrate and shout in the city of Gouveia, National Parc of Serra da Estrella that will become for few days the sanctuary of the Enduro!
Information:
–     Gouveia (District of Guarda) ;
–     Friday, May 15th : KTM Super Test from 18.00
–    Saturday and Sunday, May 16th and 17th : Starts 9h00 – Finish around 16h00 ;
–    Organizer : Natureza Eventos
–    Website : www.enduro-abc.com;
–    Track : 48kms – 3 tours ;
–    Free Access ;
–    Airport: Porto (168 kms)