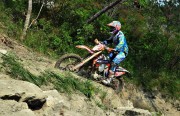 The second day of the European Enduro Championship in Buzet (Croatia) saw the victory of Tom Sagar, which was a surprise: in the narrow courses the smaller motorcycles should have had an advantage, but the British rider managed to win with his powerful 450cc KTM. "I had a very good feeling in the morning and I was able to take the lead", he said.
The winner of the first day, Italian Maurizio Micheluz, finished in second position in the Overall standings. But Micheluz took the victory in the E1 class ahead of Frenchman Fortunato  Benoit and the Swiss Jonathan Rossé, who swapped positions in comparison to the previous day.
Besides winning the Overall, Tom Sagar won in the E2 class in front of Rannar Uusna from Estonia, who had to ride with a strong pain in his shoulder. "I underwent surgery on my shoulder and actually I shouldn't have raced", the KTM rider said afterwards. With this handicap he was able to race up to the third position overall.
In the E3 class there were now already three different winners in this year: the Slovakian Miroslav Sevela won for the first time in front of yesterday's winner Toman Radek, who finished second before Mark Risse, however only 0.03 seconds separated the German rider from the second place. "I've just started too slowly. In the first stage I was probably not yet fully awake", Risse said.
In the women-class again a victory of the Finnish Sanna Karkkainen. The KTM rider benefits from the fact, that her rivals swapped positions constantly: for the first time the Italian Paola Riverditi finished in second place before the Swedish Hanna Berzelius – thus the gap of points of Karkkainen is growing, especially since the next round is scheduled in FInland, which is her home Country.
In the Junior class, where Anthony Geslin could not be at the start because of his knee-injury, the Italian Nicolò Bruschi won in front of his compatriot Nicolas Pellegrineli, who is the new leader in Junior E1 class.
In the Junior Under 20 class, the Italian Mirko Spandre won in front of Lee Sealey and passes to lead the championship.
In the Junior category, with the E2/E3, the Briton Joseph "Joe" Wootton gained the second victory in a row. However, with the second place in the daily standings, French Jeremy Carpentier was able to maintain his lead in the championship.
The images of second day are on youtube: www.youtube.com/watch?v=bqsqKl6mtxM
Further informations and pictures on the website www.FIM-Enduro-european-championship.com
The next round of the European Enduro Championship is scheduled on 8/9th August in Jämsä (Finland).