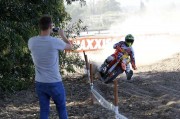 For the last five years the city of Serres and the entire region of central Macedonia have been anxiously waiting for the return of the EWC! This weekend, the Maxxis FIM Enduro World Championship is back on pretty familiar soil…
Responsible for many Grand Prix in 2004, 2005, 2007, 2009 and 2010, plus the 2008 ISDE, LAMS Auto – Moto Club of Serresis finally back on track for the fourth Grand Prix of this season. Chaired by Giorgios "Colonel" VOUDOURIS, LAMS is well-known in the global motorsports community. Apart from the World Enduro Championship they frequently organize international rally races and host a series of motorsport events in the local circuit. It came as no surprise that FIM andAMOTOE (Greek Federation) chose LAMS as the organizer of the 2015 EWC GP of Greece.
One base, three special tests
Regarding the tracks, Sokrates KIOSSES, known for his excellent work as an EWC timekeeper and a LAMS member, revealed to us in Portugal: "The paddocks will be situated in Hotel Elpida Resort & Spa, which belongs to Christos CONSTANTINIDIS, one of the main men behind this exceptional relationship between ABC Communication and Infomega. Riders, teams, Press and FIM members will have all of the hotel's modern facilities at their disposal. As was also the case in Gouveia, all special tests will be at the same place, in the area around St George's church. It's a perfect solution for spectators and the enduro community, as anyone will have the opportunity to easily attend all special tests during the two days of racing. Friday's KTM Super Test will be held in Serres Circuit!"
Serres is a city in Central Macedonia, Greece with the earliest mentions of it dating back to the 5th century BC. It has a population of more than 80.000 people and carries a long heritage from the Antiquity and the Middle Ages. The Old Metropolis of Agioi Theodoroi and the Monastery of St John the Baptist are both situated just a few kilometers outside Serres. Even though it has been affected by the recent financial recession, the city still has a vibrant agricultural economy based in tobacco, rice, tomato and cattle farming. Situated 77km north-east of Thessaloniki, it's a city that loves motorcycles sports and most importantly enduro.
Who can really stop NAMBOTIN?
After his knee injury in Portugal's KTM Super Test, everybody thought it would be difficult for Christophe NAMBOTIN (F – KTM) to fight against his E1 rivals during the weekend. But that wasn't the case. Starting Saturday with another crash, he was forced to let Eero REMES (SF – TM) get the win. He came back stronger on Sunday to win again and regain the points lost. Who can really stop Christophe NAMBOTIN in Greece? Even if the Finn's already counting two victories in 2015, it'll be hard for him to get closer to NAMBOTIN in the overall standings if the KTM rider stays healthy. Behind the TM official rider, neither Danny MCCANNEY (GB – Husqvarna), nor Cristobal GUERRERO (E – Yamaha), nor Marc BOURGEOIS (F – Yamaha), nor Lorenzo SANTOLINO (E – Sherco) nor evenSimone ALBERGONI (I – Kawasaki) seem able to cause some trouble to the "NAMBOTINATOR". However, we expect these five riders to be offering some great fights for the final step of the podium. And let's not forget Jonathan MANZI (I – Gas Gas), Gianluca MARTINI (I – Yamaha) and Rudy MORONI (I – Sherco), all looking faster and more comfortable on their bikes as time goes by.
In Enduro 2, Antoine MEO (F – KTM) might now have a lead of 19 points over Pierre-Alexandre RENET (F – Husqvarna) and of 20 points over Alex SALVINI (I – Honda), but in Portugal he wasn't as dominant as during the two previous rounds. Suffering from some injuries at the start of the season, the Husqvarna official rider could return to the top spot in Serres on his battle to close the gap with his fellow Frenchman. From his side, SALVINI seems to be gaining momentum, certainly rejuvenated from his victory in Gouveia. MEO will also have to keep an eye on Johnny AUBERT (F – Beta). Despite his DNF in Portugal, the Beta official rider really wants to prove he can finish on the podium in a city where he was crowned world champion in 2009. Moreover, AUBERT will have to give it all as two young guns are pushing hard just behind him: Jaume BETRIU (E – Husqvarna) andLoïc LARRIEU (F – Sherco). They have both shown great consistency in their results during the Iberic Tour and will give everything to do better before the end of the season. Also watch out forVictor GUERRERO (E – KTM) and Oriol MENA (E – Beta) as they really wish to improve after a mediocre start in the season.
E3: the madness is still on…
In E3, once again there's a huge interest in Greece's two race days. Mathias BELLINO (F – Husqvarna) may still be leading the standings but Matti SEISTOLA (SF – Sherco) is only 4 points behind him. And Matthew PHILLIPS (AUS – KTM), after his double victory in Gouveia, has closed the gap to only 12 points. The Frenchman will have to win in order to keep his lead against SEISTOLAwho's "on a mission" and PHILLIPS who's back on top form, as he told us at the end of the Spain-Portugal tour. Adding Aigar LEOK (EST – TM), Manuel MONNI (I – TM), Jonathan BARRAGAN (E – Gas Gas), Thomas OLDRATI (I – Husqvarna) and Luis CORREIA (P – Beta) you get a minimum of eight riders fighting for the podium. And if Frenchmen Jérémy JOLY (KTM) and Jérémy TARROUX (Sherco) step it up and avoid mechanical issues the "big bikes" class will offer great spectacle with unpredictable outcome.
Finally, it's going to be an intense weekend for the Juniors class too. The overall leader Jamie MCCANNEY (GB – Husqvarna) is clearly threatened by Giacomo REDONDI (I – Beta),Alessandro BATTIG (I – Honda) and the revelation of 2015 Steve HOLCOMBE (GB – Beta).Diogo VENTURA (P – Gas Gas) and Luis OLIVEIRA (P – Yamaha) will have to catch up after a deceiving home Grand Prix. In FIM Youth Cup 125cc, Josep GARCIA (E – Husqvarna) and Mikael PERSSON (S – Yamaha) should offer another outstanding duel, with the Frenchies Luca GARELLO (Yamaha), David ABGRALL (Yamaha), Valérian DEBAUD (Yamaha) and Jean Baptiste NICOLOT (Yamaha) fighting for the last step of the podium.
After five years of expectation everyone's looking forward to this Grand Prix Maxxis of Greece inSerres. There's no doubt that thousands of Greek spectators will be in the special tests to cheer for the elite of Enduro riders. We rest assured that the members of LAMS Moto Club will do their best to turn this 4th round of the season into a big public celebration in a city that loves motorcycle sports.
Information:
– Serres (Central Macedonia);
– 77km north-east of Thessaloniki;
– Friday, June 5th: KTM Super Test;
– Saturday June 6th and Sunday June 7th: Races start 09h00 & finish around 16h30;
– Organizer: LAMS;
– Websites: www.enduro-abc.com and serresewc.lams.gr;
– Track: 40kms – 4 laps;
– Airport: Thessaloniki (77kms)