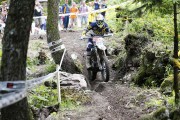 Historical First
For the very first time in its motorsport history, Belgium will host a round of the Maxxis FIM Enduro World Championship! The sixth and penultimate event of the 2015 season, the FunnelWeb Filter Grand Prix of Belgium, organised by the passionate MP41 club, will take place in the heart of Ardennes, in the small but charming city of St Hubert…
St Hubert, European capital of hunting!
With a length of 55 kilometres, the loop will offer all the difficulties of Ardennes! The Enduro Test, which will be long and backbreaking, will be located in the "Bois du Pendu" while the Xtreme Test will be largely natural and very technical. This one will be situated on the Poix road, right in front of the Cross Test! A Time Check will be also present in this road where the Moto Club will put also to disposition of the spectators some snacks and also a commercial zone to do of this Grand Prix a great popular celebration! Friday night's KTM Super Testwill take place in the city centre of St Hubert and should offer some a show, moreover the MP41 has organized a concert to ensure a big night. Finally, the paddock will be on the civil aerodrome of St Hubert.
Small city of Wallonia, St Hubert counts around 6,000 inhabitants and is the European Capital of hunting and nature. Situated 65 kilometres from Namur and 137 from the capital Brussels, St Hubert is also known as the "Roma of Ardennes". This one, very famous for his St-Michel basilica, his abbey and the museum Fourneau de Masblette in St-Michel, is also a place where Enduro riders love to share good moments and where the MP41 has already organized numerous stage of the Belgian Championship.
With nearly 130 entries, of which 13 Belgian riders, it confirms that the FunnelWeb Filter Grand Prix of Belgium will remain in the history of the Maxxis FIM Enduro World Championship as the very first Belgian round in the Enduro history! No doubt, MP41 will do great things in order that everything is perfect for riders and spectators alike.
BELLINO: the best defence… is to attack
After scoring a perfect double in Serres (Greece), Mathias BELLINO (F – Husqvarna) couldn't do anything against Matthew PHILLIPS (AUS – KTM) in Rovetta (Italy) three weeks ago. While he has a 16 points lead in the Enduro 3 championship standings over the Australian, the 2012 Junior World Champion will certainly be looking to secure precious points in the hope of taking off some pressure ahead of the final event being held in Requista (France). Behind these two men, the fight for the third position is also a fierce one as Matti SEISTOLA (SF – Sherco) and Aigar LEOK (EST – TM) are just separated by 3 points… For the Finn, he will also have to prove that his broken finger is now an old story and he can still fight for the win. We'll have also to keep an eye on Luis CORREIA (P – Beta),Manuel MONNI (I – TM) and Thomas OLDRATI (I – Husqvarna). Back in confidence, Jeremy JOLY (F – KTM) could be dangerous just like Antoine BASSET (F – KTM) who, after a superb and surprising performance at the Grand Prix of Italy, will look to confirm his current good form. Finally, the local of the stage Jean-François GOBLET (B – Husqvarna) will be pushed by an entire nation and will look to show his best.
In Enduro 1, the situation is serious for Christophe NAMBOTIN (F – KTM). The official KTM rider is in a position he is not used to be. With many doubts about his injured knee the big question is 'can he get back in front of new class leader Eero REMES (SF – TM)?' Producing the best form of his career (5 wins, 4 second places and one 4th), the Finn has never been so close from winning what might be his very first world championship title. On their sides, Danny MCCANNEY (GB – Husqvarna), Lorenzo SANTOLINO (E – Sherco) and Marc BOURGEOIS (F – Yamaha), in their fight for the third place, could come between the two protagonists. Beware also of Simone ALBERGONI (I) who is more and more incisive and is getting closer to the podium with his Kawasaki. After a very deceiving Grand Prix of Italy, Cristobal GUERRERO (E – Yamaha) will look for revenge and will want to prove that he is better than his current 7th position in the standings…
RENET has to win!
The Grand Prix of Italy was an interesting one for the Enduro 2 class. With a victory for Pierre-Alexandre RENET (F – Husqvarna) and one for Antoine MEO (F – KTM) nothing changed in the E2 championship battle. Things are getting urgent for the official Husqvarna rider if he is to retain his title. Indeed, RENET has to win both days in order to arrive in France as close as possible to class leader MEO. Alex SALVINI (I – Honda), in trouble with his knee in Rovetta, will want to prove that he can win. While Johnny AUBERT (F – Beta) will be absent due to an L5 vertebra injury, the duo Jaume BETRIU (E – Husqvarna) and Loïc LARRIEU (F – Sherco) will offer a great show in the fight for the 4th position. But be aware also of David KNIGHT (GB – KTM) who's coming to fight with the best this weekend! After a nice Italian GP, we are waiting some confirmation from Nicolo MORI (I – KTM) andDeny PHILIPPAERTS (I – Beta). All the attention of the Belgian public will be on Cedric CREMER (B – KTM) who will look for the Top 10!
In the under 23 class, Jamie MCCANNEY (GB – Husqvarna) has a 28 points lead over class runner-up Giacomo REDONDI (I – Beta). No doubt, the Brit should hope that some riders like Steve HOLCOMBE (GB – Beta) and Alessandro BATTIG (I – Honda) come between him and REDONDI. But the task seems difficult. Moreover the 2015 revelation Steve HOLCOMBE will look to make an impression for the next season by winning both days…
In the FIM Youth Cup 125cc, Josep GARCIA (E – Husqvarna) used three of his four worst results while Mikael PERSSON (S – Yamaha) still has two of them! Advantage for the Swede who will look to extend his lead before the last Grand Prix! Behind these two guys, Jack EDMONDSON (GB – KTM)holds the rope for the last place in the final podium but he will have to keep an eye on Frenchies Luc MALIGES (KTM), Luca GARELLO (Yamaha) and Valerian DEBAUD (Yamaha) just like ItalianMirko SPANDRE (KTM).
Finally, the Women Cup is back on track after a break of two months. And we are still trying to know who can beat Laïa SANZ (E – KTM) who is on her way to a fourth crown in a row. Behind SANZ, the duel Jane DANIELS (GB – Husqvarna) – Jessica GARDINER (AUS – Sherco) will be back on while the Australian has for now only a 4 points advantage on the Brit. Blandine DUFRENE (F – KTM),Jessica JONSSON (S – Kawasaki), Jemma WILSON (AUS – Yamaha) and Valerie ROCHE (F – Beta) should also make some noise in the class…
With all the necessary ingredients, this FunnelWeb Filter Grand Prix of Belgium should be a great one on a field where Belgian and French will be highly motivated and where everything can change with only one Grand Prix to go! See you on 10th, 11th and 12th of July in St Hubert for the 6th and penultimate Grand Prix of the Maxxis FIM Enduro World Championship!
Information:
–    St Hubert (Province of Luxembourg);
–    65 kilometres de Namur et 135 kilometres de Bruxelles;
–    Friday 10 July: KTM Super Test from 18.00
–    Saturday 11 and Sunday 12 July: Start: 9.00 and Finish around 16.00;
–    Organizer: MP41;
–    Websites: www.enduro-abc.com and www.mp41.be
–    Track: 55kms – 4 laps;
–    Free Access;
–    Airport: Brussel (environ 130 kms) – Charleroi (120 kms)