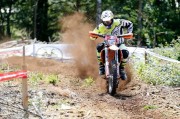 Done! The MP41 and the entire Belgium country have passed their test with this very first Maxxis FIM Enduro World Championship Grand Prix. And this one has been very good… Back on a crazy week of Belgian organizers and EWC caravan.
Success
For the very first time in Enduro history, Belgium received a round of the Maxxis FIM Enduro World Championship and it's the MP41 that has to organize it. And what we can say is that they did it pretty well… Making nice special tests and organizing everything around to bring people, the MP41leaded by Philippe LIGOT, Christophe LADURON and Jean-François SLACHMUYLDERS have made a great shot! We already heard that they want to organize it again in 2017?
Interest
All these efforts have been rewarded by a certain interest and many riders… Coming from Belgium, France, Germany, Netherlands, United Kingdom and also Australia, this FunnelWeb Filter Grand Prix of Belgium was full! According to the MP41, they had between 4 000 and 5 000 spectators in the KTM Super Test, around 10 000 on Saturday and 12 000 on Sunday… As Philippe LIGOT (MP41 President) confided: "The best award we can get is that 25 000 people were present all along the weekend!"
Rally
Last Thursday, KTM and Husqvarna announced that Antoine MEO (F) and Pierre-Alexandre RENET (F) will join their Rally team in 2016… An accomplishment for these two riders who were looking for it! So they will not participate to the ISDE to prepare for Dakar, participating to the Atacama Rally end of August. But the official Husqvarna rider, after his shoulder dislocation on Saturday, will not be able to race this rally. We wish them good luck in their new life. They will be, for sure, the best Enduro ambassador… that has always been the best rally school (PETERHANSEL,COMA, ROMA, DESPRES…)
FunnelWeb Filter
Brand new among the EWC sponsors, the Australian air filter brand was the title sponsor of this Grand Prix of Belgium. With a commercial stand in the paddock and another one in Poix road, next to the special tests, Niels VAN KEMPEN had the opportunity to attract many people looking to know more about that brand new filter… And to make more noise, VAN KEMPEN has also made a very original hostess outfit that had a lot of success next to the spectator!
Versatile?
"This Belgian Grand Prix is not a World Championship round!" (Antoine MEO – Friday, July 10th – 15.45 – Rider Meeting)… "The special tests were really nice… nothing to say for a great first… The organization has been great. For a first time in Belgium I didn't expect so many spectators" (Antoine MEO – Monday, July 13th – L'Avenir: Belgian Newspaper)… Figure it…
Xtreme not extreme?
For some times now, we hear some people saying that the Xtreme Tests are not anymore difficult… But the MP41 proved this weekend that you still can do a natural and difficult Xtreme Test. With a wall that gave many difficulties to some riders and offered nice pictures to journalists, but also some very technical and slow sections. Spectators enjoyed a lot this special test all along the weekend!
German connection
With a Grand Prix very close from them, Germans came to fight with the best of the best. Indeed, in St Hubert, Edward HUBNER (KTM – E1) received the help of riders such as Marco NEUBERT (Honda), Dennis SCHROETER (Husqvarna), Mark RISSE (Beta) or also the prospects Jan SCHAEFER (KTM), Yanik SPACHMUELLER (KTM) and Davide VON ZITZEWITZ (KTM)… All these riders proved they can fight for some great places and it will maybe give them some nice ideas for the future while waiting of GP of Germany!
Succession
Since the start of the season, we are speaking a lot of Mikael PERSSON (S – Yamaha), Josep GARCIA (E – Husqvarna) and also of Jack EDMONDSON (GB – KTM), Luca GARELLO (F – Yamaha) and David ABGRALL (F – Yamaha)… But we can't forget about Luc MALIGES (F – KTM)very consistent and 4th in the overall. Same for young TM France rider, Quentin DELHAYE DE MAULDE (F) who was brilliant in St Hubert and has signed his first podium. Succession is here!
A US guy in the EWC
Since the late Kurt CASELLI (USA), Ian BLYTHE (USA) and Andrew DELONG (USA) in 2011, the EWC never had the opportunity to welcome a US guy in the paddock. During this FunnelWeb Filter GP of Belgium, the Red Moto Honda team has remedied to this, giving their help to Chris BACH (USA – Honda). GNCC specialist (3rd in 2013), North Carolina born distinguished himself for his first apparition on a World round (14/12). VBery sympathetic, BACH admitted that he "loved this amazing event" on his blog on Enduro21.com! After this first try, we hope to see him again and many others in the special tests.
Come Back
During this FunnelWeb Filter GP of Belgium, David KNIGHT (GB – KTM) was back on track… Three time World Champ' scored two nice Top 5 despite still having troubles with this illness contracted during SuperEnduro GP AMV of France and while he made no specific preparation. Nice comeback also for Britain Tom SAGAR (KTM – 6/9) while his fellow Jamie LEWIS (KTM) after signing the 10th spot on Saturday had to give up on Sunday…
Extension
Enduro Mercato is already boiling! With 75% of the riders free of any contracts at the end of the season many manager and riders are in discussion and some of them have already re-signed just like Lorenzo SANTOLINO (E) who's back with Sherco for the two next years and also Ivan CERVANTES (E) who signed a 1 year contract with KTM. We heard also that Yamaha is very active in the Free Agency and that some riders like Matthew PHILLIPS (AUS – KTM) are willing to change team… This summer will be full of rumors and new contract, especially with the creation of the EnduroGP class!