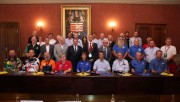 The 90th edition of the International Six Days of Enduro 2015 (ISDE) has been opened officially with a presentation of the teams in the center of Kosice (eastern Slovakia). From 7th to 12th of September close to 500 riders from 32 Federations will compete in the longest standing and most traditional team event of Enduro.
Earlier in the afternoon the representatives from the teams, as well as FIM President Vito Ippolito, FIM Europe President Dr. Wolfgang Srb and SMF President Peter Smižik were invited by the mayor of Kosice Richard Raši to the townhall for an official reception.
"Team events are the most special competitions. The best riders of a Country race together, once a year, with pride for their national colors. The ISDE is the toughest competition one can imagine, and after six days every finisher is a hero" stated Dr. Wolfgang Srb. "The event will take place for the fifth time in Slovakia and I like to thank the Slovak Motorcycling Federation, the organizer, the town of Kosice as well as the Federations that take part in this unique event and make it so special".