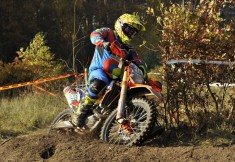 The external conditions for the first day of the Enduro-European-Championship in Rüdersdorf (east of Berlin) have been perfect: The weather was not too warm and after the sun came out it became dry with a lot of grip.
The three laps with more than 60 km contented each three special-tests which add up to more than 1 hour test-time!
The first championship was decided in the morning, when the Yamaha of E1-Pilot Jonathan Rosse from Switzerland got an electric defect in the very first test. Rosse could not finish and gave the way to Maurizio Micheluz from Italy to defend his title in the E1-Class. Even if the local Edward Hübner as a guest took the daily win in front of the Husqvarna-Rider Micheluz.
Even in the E2-Class we got an champion: The Brit Tom Sagar not only won the E2-Class, but the Overall as well. With this result the KTM-rider defended his title in the class and battled the Overall-title too!
In the E3-Class the Swede Martin Sundin did not reach for the title: To many mistakes throw him to fourth place in the day. But his rivale Toman Radek was even more worse that they still battle for the title.
But Veteran Werner Müller from Austria already took his ninth (!) title before the last day! The KTM-rider was unbeaten the whole season.
No early decicion was made in the three junior-classes:
In the junior-E1-class the leading Nicolas Pellegrinelle was injured and had to quit. The day was won by David Abrall from France, who now is second in the championship, only three points behind the leading Patrick Markvart.
In the class of the youngest riders, the under-20-class the victory of Mirko Spandere from Italy serve him a lots of points, but not yet the championship.
Same with Jeremy Carpentier in the Junior-E2/E3-class: The French even was third in the overall, won the class, but for the title he needs still another fife points.
See the live-timing of the second day at: www.zeitnahme-dataservice.de or as an App for your smartphone "Zeitnahme TM"
Find more informations, news, results directly at our homepage: http://european-enduro.com/