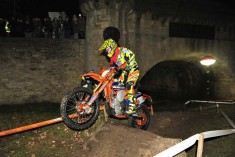 Fight in the night
More than 130 riders from the Enduro European Championship took the start on Friday evening to the prologue of the final competition in the german city ofRüdersdorf (east of capital Berlin).
Inside the industrial museum was hosted the parc ferme inside the historical buildings und the track of the Test was along the Buelow ship canal.
It became dark very early and as one of the first riders the veteran Werner Müller from Austria hold the fastest time for more than one hour.
On the tough parcoure the old champion got no problems, but the respect of the big crowd watching this test.
At the end was the Brit Tom Sagar the very fastes of all the riders with a lead of 3,6 seconds to Jaromir Romancic from Czech Republik and the French Rudy Cotton.
But this one test was only the prelude to two days of enduro with more than 7 ½ hour of riding the offroad-bikes day by day.
See the live-timing of the competion at: www.Zeitnahme-dataservice.de or as an App for your smartphone "Zeitnahme TM"
Find more informations, news, results directly at our homepage: http://european-enduro.com/