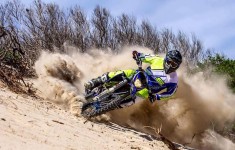 While a new year is starting and with the next arrival of the EnduroGP, teams already completed their free agency… Today, we propose you a precise look to the next face of the Enduro.
KTM renew its roster
In 2015, Fabio FARIOLI (manager) decided to keep his winning big three Matthew PHILLIPS (AUS) – Antoine MEO (F) – Christophe NAMBOTIN (F) and also the historical rider of the brand Ivan CERVANTES (E)… This season, with MEO leaving to rallyes and the desire to see somewhere else of PHILLIPS, the orange brand couldn't do anything that renewing its roster! Sand races and MX specialist, young Brit Nathan WATSON will try his luck in Enduro and will compete in E1. Another newcomer is SuperEnduro star Taylor ROBERT (USA) who attends each year to the Six Days and who's decided to make a nice season in EnduroGP. He'll be competing in Enduro 2 with NAMBOTIN as teammate in this class while four-times World Champion CERVANTES will look for the E1 title. Laia SANZ (E) will be of course a part of the official team and will look for a 5th title in a row in the Women Cup.
On the supported team side, Fabio FARIOLI should keep Mirko SPANDRE (I) and Jeremy JOLY (F). He should also welcome under his awning Spanish talent Jaume BETRIU. Rudy MORONI (I) after a year with Sherco, is coming back home in 2016.
Husqvarna rejuvenate
In the "Rockstar Energy Husqvarna Factory team" of the brand new team manager Andreas HOELZL, we have to do with Pierre-Alexandre RENET (F) leaving to the rallyes. They also left Junior World Champion Jamie MCCANNEY (GB) free of any contract… These two top riders let their places to young future star Josep GARCIA (E) who will compete in Junior and to young Austrian Pascal RAUCHENECKER who will fight with Eero REMES (SF) and all the top guns of the E1 Class. 2015 E3 World Champion Mathias BELLINO (F) and Danny MCCANNEY (GB) will be competing in Enduro 2.
For the supported team, Jane DANIELS (GB) should be again present under Husqvarna awning while we didn't hear anything from Thomas OLDRATI (I) side.
Beta, the threat!
Last year, Fabrizio DINI kept his team as it was with Johnny AUBERT (F), Luis CORREIA (P) and Giacomo REDONDI (I). But for 2016, Italian manager didn't renew REDONDI and transferred the Portuguese to the Beta Boano team. He did all that to free the space to British rocket Steve HOLCOMBE but mainly for one of the main favorite for the EnduroGP title: Alex SALVINI (I).While "Salvo" will be aligned in Enduro 2, Steve HOLCOMBE and Johnny'Au will look for the E3 title. With such a big three, the ambitions of Beta are big and legitimate!
RedMoto choosing the young and Italian card!
By letting Alex SALVINI signing with Beta, Honda RedMoto draws a line on a successful period (an E2 title and two Vice-Champion places) and Egidio MOTTA (RedMoto President) has decided to work on a long term period. Alessandro BATTIG (I), survivor of this sweep, will make the big jump to the Seniors classes, fighting in Enduro 1 while Giacomo REDONDI (I) and Davide SORECA (I) will replace him in Junior. A long time expected with TM, former MX rider Davide GUARNERI (I) has finally decided to surprise everybody and signed with RedMoto. He'll learn the tough Enduro rules in the very tough Enduro 2 class after convincing Six Days in Slovakia. He will be accompanied by Oscar BALLETTI (I) who's leaving KTM for Honda… What about the famous Italian manager Franco MAYR?
Giacomo REDONDI (I) on his new bike (Pic: Michael MINELLI)
Yamaha is getting bigger
Last year, Yamaha made the buzz signing his return on the EWC with Miglio team, its new WR250F and an ambitious recruitment with the return of Cristobal GUERRERO (E) on the blue bike and the young Gianluca MARTINI (I)! For next year, Alexandre KOWALSKI has decided to present two teams on the EnduroGP. Yamaha Miglio will still be working with the WR250F with on its handlebar, Junior World Champion Jamie MCCANNEY and FIM Youth Cup 125cc winner Mikael PERSSON (S). Moreover, Marc BOURGEOIS has decided to retire from the World Championship in order to become manager of the second team equipped with the brand new WR450F. BOURGEOIS will have in his roster Cristobal GUERRERO and Loïc LARRIEU (F) both in E2 on this new bike!
Beta Boano getting stronger
For the other Beta team managed by Jarno BOANO, a good operation has been done… After signing Alex SALVINI, the official Beta team has decided to send Luis CORREIA under the awning of Beta Boano. His class is still to be announced. Deny PHILLIPAERTS (I) should continue in Enduro 3 and Matteo BRESOLIN (I) will substitute Davide SORECA in Junior.
Gas Gas is back!
In difficulties all along the season due to Gas Gas financial troubles, the Catalan team managed by Sergi DURAN will be for sure back on the EnduroGP in 2016! Indeed, with the purchase of Gas Gas by a new Catalan firm called "Torrot", Sergi DURAN get the green light to continue his team on the World Series! For 2016, Jonathan BARRAGAN (E – E3) and Diogo VENTURA (P – Junior) will be back with the red colors of the Spanish brand!
Sherco playing the Australian card…
Sherco made again some noise during this off-season. The Sherco CH Racing team of Fabrizio AZZALIN continues the adventure and even if they had to say good bye to Matti SEISTOLA (SF) who decided to retire, they will now count one Australian Matthew PHILLIPS. Quid of Jessica GARDINER (AUS)? On the Sherco official team, Jeremy TARROUX (F) will be more concentrate on the French Championship and French classics but Jordan CURVALLE will still have Lorenzo SANTOLINO (E) who should be racing again in Enduro 1 and on Anthony BOISSIERE (F) who's the new teammate of the Spanish after the decision of Moto Pulsion to stop!
TM: No noise… till December!
In TM Racing, despite the retirement of Aigar LEOK (EST) nothing filtered until December. Free of any contract, Eero REMES (SF) confided us during the FIM Gala that he still doesn't know what he'll be doing in 2016. But the E1 World Champion will finally be riding again a blue bike; just like Manuel MONNI (I) who has also resign… Young Swedish prospect Oliver NELSON will join them this year!
EEAT, we don't know anything!
Good bye Jeremy MIROIR (F). Now the "old guys" are Anthony GESLIN (F), David ABGRALL (F) and Jean-Baptiste NICOLOT (F). GESLIN and ABGRALL could race both in Junior next year and will be the biggest French prospect in this class with Jeremy CARPENTIER (F). Despite this, Frederic WEILL let nothing filter and we still don't know if the one leaving will be replace!
TM France
After participating to Italian, Belgian and French GP in 2015, the TM France team will still be present next season… And to do so, Fred DI GIAMBATTISTA has signed Theo BAZERQUE (F) who will race in the Senior classes (TBA) and Leo LEQUERE (F – FIM Youth Cup 125cc) to team with Quentin DELHAYE DE MAULDE (F) who will race in Junior…
Sherco Academy
From Cahors and the team of Didier VALADE, there are also some moves. Indeed, while still counting on Kevin PANIS (F), he signed also Spanish prospect Kirian MIRABET for a two year deal!
Lunigiana team
A new Italian team is coming in the paddock of the EnduroGP 2016. Seen during the Bergamasche Valley, the Lunigiana team, equipped with Kawasaki, will take part to some GP's and will be composed by Gianluca MARTINI and former KTM rider Nicolo MORI (I).
Frenchie
On the Frenchie side that is not under contract, Romain DUMONTIER will continue his adventure with his family structure and should keep Valerian DEBAUD in his team and maybe a surprise…