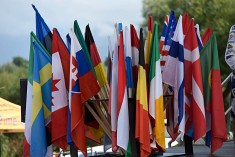 There is no doubt about it, the 91st edition of the FIM International Six Days Enduro (ISDE) that will be held at the Circuito Navarra, Spain from Tuesday 11 October to Sunday 16 October 2016 looks set to be a great occasion with the permanent motorsports facilities offering a great focus to the latest coming of this historic event. 
Preliminary entries to become a part of the 2016 ISDE are already open, but are set to close on Monday 29 February so make sure you submit your entry today. Registration is available on the official event website
More details on the official Website
Over the coming months we will bring you all the latest news regarding the 2016 ISDE, in the meantime we would like to share the following key information.
What's new?
Changes to national team regulations: 
World Trophy Teams – will now comprise of 4 riders
Junior Trophy Teams – will now comprise of 3 riders
Women's Trophy Teams – will now comprise of 3 riders
Changes to sporting jurisdiction:
FIM Jury will now be replaced by FIM Race Direction – This will comprise of the Clerk of the Course, the Race Director and the Course Inspector. In addition there will now be a Steward's Panel made up of 2 FIM Stewards and 1 Steward from the National Federation. A review of the penalties and clarification of the protest and appeal procedure has been implemented.
The latest rules, supplementary regulations, timetables etc can be found on the official event website – Click here for more details.
   Join the conversation #FIMisde
Each year the ISDE creates huge global interest with riders, fans, supporters, sponsors and the media from a growing number of nations eager to follow the progress of the riders and teams as they battle it out over six tough days of competition.
You can become part of this truly international community via the dedicated official FIM ISDE Facebook – Click here to join the conversation and don't forget to use official event hashtag #FIMisde across all social media.
   Coming soon
After the massive success of last year's first ever FIM ISDE app – a new and improved version – again with live timing will soon be available for FREE download.
Further to the initial announcement late last year, the newly launched FIM Vintage Trophy (for motorcycles over 30 years old) will celebrate its first edition during the 2016 ISDE. Supplementary regulation and registration will be available from March.