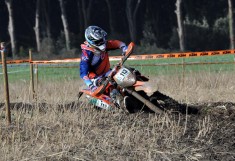 For the second day of the European Enduro Championship in Donoratico (Italy) the track and the special test have not only been reversed, but they where more bumpy after the first day. That is one of the reasons why yesterday's winner, the Italian Nicolas Pellegrinelli, did not manage to win again. "Another rider was stuck right in front of me in the special test and it took me a lot of time to pass him in that narrow track. But the most time I lost because I'm not used to my new bike in this rough conditions", said Pellegrinelli.
So the second Junior took the lead: Brad Freeman won the first cross-test and from this point on he controlled the race. Pellegrinelli tried to come closer, but at the end he was for 45 seconds behind.
The reigning champion Tom Sagar from England improved not only in the overall with a third place: with a little help from the winner of first day Romain Dumontier he managed to win today's race. Dumontier crashed and broke a finger and could not fight as hard as before.
Maurizio Micheluz did not only win his class again: he also finished at the fourth place in the overall. While all riders in the E3 class use light 2-stroke motorcycles, the Italian won with the heavy 4-stroke.
The E1-class was won again by the Italian Guido Conforti  in front of the German Andi Beier and of the Swiss Jonathan Rosse like the day before.
In the E2-class the reigning champion Tom Sagar seized the victory in front of the German Marco Neubert and the Brit Jamie Lewis.
Maurizio Micheluz won in the E3-class ahead of his compatriot Nicoli Mori and Rannar Uusna from Estonia.
In the Women-class the very demanding track was cut down to only two of three laps. The British rider Jane Daniels won again: the Husqvarna rider had a good gap on Maria Nyqvist from Finland at second and Nina Klink from the Netherlands.