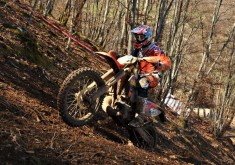 Viva la France
At the second round of the Enduro European-Championship, France showed his best side: With summer-temperatures of nearly 20 degrees with best sunny weather, it was for the spectators even better than for the riders, which had to fight hard to stay in the times.
Without overall-winner Brad Freeman from England it could have been a French championship: Not only this many riders have been competing – they have been victorious too. In the top 10 already six riders from France took place!
Antoine Basset and Anthony Geslin took place two and three in the overall, right in front of their fellow countryman Quentin Delhaye de Maulde and David Abgrall.
The reigning Champion Tom Sagar from England behind, he had to fight back to first place in his E2-class after several crashes.
Exept Basset, who won the E3-class with his KTM, more and more juniors at the top: Freeman, well known as Junior E2/E3 after winning the first round, the three French rider all from the Junior E1-class!
French supremacy in the E1-class too: Romain Boucardey wonn the class ahead of his fellow countryman Jeremy Carpentier (reigning champion in the juniors E2/3). Behind the riders from France the Swiss Jonathan Rosse.
In the women-class still Jane Daniels ist the one to beat: The Brit is ahad for some minutes with her Husqvarna.
At the Veterans the reigning champion Werner Müller from Austria had a big fight with the Sebastian Krywolt from Poland. Each special-test an other won and they switched the lead, until Müller crashed hard and was beaten.
More information and schedules, results and links, there are always up to date and right on the official website:
http://european-enduro.com/