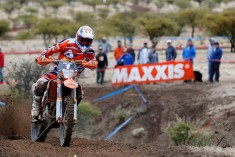 The brand new image and dynamic of the EnduroGP is attracting also sponsors. These partners are of course essential to the improvement of the Enduro and they permit, with their financial efforts to invest a lot in TV production and general communication around each round while supporting local organizers through the presence and the engagement of ABC Communication, promoter of the Championship.
We have to remind you that their support are crucial for a sport that has not ticket money and where the access is free in most of the countries.
Maxxis, more than never title sponsor!
That's why ABC Communication is proud to announce the renewal and the increasing efforts of Maxxis Tyres as title sponsor of the Championship. The tires brand from Taïwan has a great relationship with ABC Communication since 2000 and these 16 years of cooperation allowed also Maxxis to increase their his image in sport motorbike and off-road disciplines where its tires are now very well known.
Acerbis, Motorex, Scorpion Exo Helmets, Polisport, Twin Air and also France Equipement, Cross Pro, Akrapovic Exhaust, FWF or Moose Racing and Parts Europe are a lot of proof of great cooperation and faithful engagement with the World Series!
Technomousse is the brand new title sponsor of the Xtreme Tests of the entire Championship since this winter while AMV Assurance (title sponsor of the Spanish and French GP) remains as the most faithful sponsor of ABC Communicationsince… 1997… when ABC Com started to work on the Supermoto French Championship!
Scott Sports and Sidi arrive!
Major sponsor of the WEC during a long time, Scott Sports is back this year in the "Parc Fermes" with a multi-year deal that will give a lot of exposure to the Championship as Scott image and products are famous and evocative.
Created in 1960 by Mr. Dino SIGNORI and after launching its first off-road boot range in 1970, Sidi becomes also this season one of the brand new sponsor of the EnduroGP! Present all over the world thanks to an effective distribution network, Sidi is now one of the biggest cycles and motorbikes shoes brand. With more than 50 years of experience and a permanent innovation, Sidi society, based next to Treviso in Italy, sticks perfectly with Enduro traditional values. Sidi is the partner also of the Beta Factory team (AUBERT, SALVINI…) and has also signed the double in SuperEnduro thanks toColton HAAKER (USA – Husqvarna) and Cody WEBB (USA – KTM)!
ABC Communication is really proud to see so much support and faithful partners, that despite their dynamic images, help to bring a really notoriety to the Maxxis FIM EnduroGP World Championship.