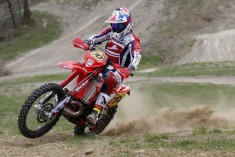 Steve Holcombe will take to the start of his first full season of FIM Enduro World Championship competition this Friday, when the Beta Enduro Factory Team rider competes in the GP of Morocco, in Agadir. Stepping up to the official Beta factory team following a standout season in the Enduro Junior World Championship in 2015, Steve will compete alongside Beta team-mate and former world champion Johnny Aubert (France) in the Enduro 3 class.
Competing in six of the seven rounds of the 2015 EWC series, Holcombe quickly established himself as one of the class' fastest riders and one of the world championship's brightest young talents. Placing on the podium on 11 of the 12 days he competed in, he claimed winning results in Portugal, Greece, Italy, Belgium and France.
Still young enough to remain in the Enduro Junior class in 2016, Steve decided not to chase the junior world title and instead has set his sights on the highly competitive Enduro 3 class. As well as Aubert, Holcombe will compete against seasoned EWC riders Lorenzo Santolino (Spain), Jaume Betriu (Spain), Manuel Monni (Italy), Luis Correia (Portugal), Thomas Oldrati (Italy), Jonathan Barragan (Spain) and Antoine Basset (France).
The 2016 Enduro World Championship will visit Morocco for the first time ever, before returning and remaining in Europe. One week after the opening round the series will head to Portugal, to the familiar tracks and trails in and around Gouveia. The championship then heads to Grevena in Greece before back-to-back Scandinavian events in Finland and Sweden in June. Two rounds of the series in July take competitors to Spain and Italy before the final round takes place in France in September.
Steve Holcombe: "The start of the Enduro World Championship is the thing I've been working towards for months now, I can't wait. I don't think anyone really knows what to expect from the first race in Morocco, except that it's going to be dry and pretty warm. There are a lot of firsts for me this season – my first as a factory team rider, my first year out of the juniors, and it'll be the first time I've raced the opening round of the EWC series.
It's a special year for me in many ways. I feel like my preparations with the team have gone really well. I've been working hard and feel really good. All of the testing I've done with the team has been good, and I feel I'm ready. Moving into a senior class is what I wanted to do – I know my competition will be much higher than last year but that's what I'm looking forward to. I know what I'm capable of and really want to show what I can do. But I also know that compared to most other riders I don't have anywhere near as much experience. I have a lot to learn still, but I feel like the Beta team is a great place to be. I'm really looking to get stuck into the 2016 EWC series…"
2016 Enduro World Championship schedule
Round 1 – GP of Morocco, 9-10 April
Round 2 – GP of Portugal, 16-17 April
Round 3 – GP of Greece, 21-22 May
Round 4 – GP of Finland, 11-12 June
Round 5 – GP of Sweden, 18-19 June
Round 6 – GP of Spain, 2-3 July
Round 7 – GP of Italy, 16-17 July
Round 8 – GP of France, 10-11 September