ROCKSTAR ENERGY HUSQVARNA FIRED UP FOR ENDURO WORLD CHAMPIONSHIP SUCCESS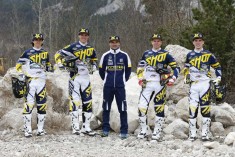 Four-rider team set to take on 2016 EWC series
Featuring a strong mix of championship winners and up-and-coming youngsters Rockstar Energy Husqvarna Factory Racing are looking forward to a successful start to their 2016 FIM Enduro World Championship campaign, which kicks off this weekend in Agadir, Morocco.
Under the guidance of team manager Andi Hölzl all four official team riders will be aiming for victory in three different classes of the Enduro World Championship. Making a switch to Husqvarna's FE 450, reigning Enduro 3 world champion Mathias Bellino will spearhead the team's efforts by contesting the Enduro 2 class. Well prepared and as determined as ever, the Frenchman is hungry for further championship winning success.
Back to full fitness following knee surgery at the end of last year, Danny McCanney has his sights set on challenging for a debut senior title in Enduro 1. Gelling well with his new Husqvarna FE 250 the Manxman aims to come out swinging when the season kicks off in Agadir.
Rockstar Energy Husqvarna Factory Racing's Enduro 1 team is completed by Austria's Pascal Rauchenecker. Switching to enduro from national and international motocross, the 22-year-old has been working hard ahead of the EWC's first event and is aiming high during his first season of international enduro competition.
Stepping up from the 125cc Youth class where he clinched six race wins and an overall runner-up championship result in 2015, Spain's Josep Garcia will move to the Enduro Junior class for 2016. With class wins in his national enduro championship already to his credit, the FE 250 4-stroke mounted rider is looking to turn his hard winter preparations into winning results when the championship gets underway.
Ahead of the opening round of the 2016 FIM Enduro World Championship series, Rockstar Energy Husqvarna Factory Racing is also pleased to release the official pre-season team video here.
Download the official high resolution Rockstar Energy Husqvarna Factory Racing EWC team imagery here.
Rockstar Energy Husqvarna Factory Racing – 2016 Rider Line-up
Danny McCanney – Husqvarna FE 250 (Enduro 1)
Pascal Rauchenecker – Husqvarna FE 250 (Enduro 1)
Mathias Bellino – Husqvarna FE 450 (Enduro 2)
Josep Garcia – Husqvarna FE 250 (Enduro Junior)
Team Manager: Andreas Hölzl
Andreas Hölzl – Rockstar Energy Husqvarna Factory Racing Team Manager: "This is a very important year for Husqvarna in enduro competition. World Champion Mathias Bellino is switching to the new FE 450 four-stroke machine and is ready to fight for the Enduro 2 crown. Coming back from injury Danny McCanney loves his new FE 250. For him the bike is so light and so easy to handle. We have new bikes and two new talented riders joining our EWC campaign. Josep Garcia is a fast and highly motivated youngster and I'm convinced he can fight for the championship in Enduro Junior. Carrying a lot of experience from motocross racing, Pascal Rauchenecker worked hard during wintertime to improve in extreme conditions. We expect competition to be more intense in 2016. We have a great atmosphere in the team and I believe all the right tools are there to bring Husqvarna to the top."
Mathias Bellino: "This year we decided to switch to Enduro 2 class. For me E2 is going to be the main class for the 2016 Enduro World Championship, with the best riders fighting for the podium. I knew it is going to be a tough season so I worked really hard during the off-season. Switching back to a four-stroke bike gave me some extra motivation. I feel really good on my new FE 450. It's such a great bike, turns amazingly well and overall I believe its fits my riding style perfectly. We've been doing a lot of testing and I'm working hard to gain even more confidence, as we're getting closer to the season opener. With so many good riders in Enduro 2 it's going to be a challenging season and I'm definitely looking forward to it."
Danny McCanney: "I'm positive coming into the 2016 season. Everything is going according to plan and I can't wait for the championship to kick off. I showed last year I have the speed to reach the top so I'm just hoping things will just get better from now on. I'm better prepared for this new season and I've worked a lot on my physical condition. As for the new FE 250, honestly it's better than I even expected. It's a big improvement from last year. Clearly I want to be top three again in the championship and maybe fight for some victories. Competition is going to be harder in 2016 but I feel ready for it."
Pascal Rauchenecker: "It's going to be my first year racing enduro so the main goal is to get as much experience as possible. I need to learn a lot and I'm glad I'm surrounded by the right people to help me do so. I'm feeling great with the new bike. The more time I spend on my FE 250 the more comfortable I feel. We have a really powerful engine and overall I believe the bike is ready for the championship. Everything is new for me so the plan is to take things one-step at a time. One thing for sure, I will keep working and training hard to reach the top in Enduro 1."
Josep Garcia: "This year is a very important one for me. Husqvarna have given me a great opportunity and feel confident that I can do well in my first year in the junior class. Things have started with good results in the Spanish championship, and I'm more than happy with my bike. It's my first year on a 250 4-stroke, but I love it. The conditions at the first race in Morocco should be dry and suit me, so I'm looking for a good start to the championship."