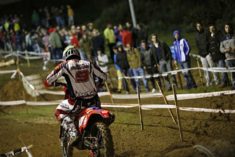 Video. Despite a rainy day, the weather decided to finally give some rest to the EnduroGP during the Super Test that has been well organized and where around 3 000 Portuguese came this Friday evening.
If this awesome public was waiting for a good show… They get what they were looking for! The Club Natureza Eventosmade a pretty fast but technical Super Test where the 148 riders made a great show!
From the start of the EnduroGP class, the show was awesome! Indeed, home favorite Luis OLIVEIRA (P – Yamaha) was facing Six-time SuperEnduro World Champion Taddy BLAZUSIAK (PL – KTM)… And after an exciting duel, both riders made a time of 1'31''87! Then the intensity never got low and if Lorenzo SANTOLINO (E – Sherco) was hoping to win this Super Test with a nice 1'30''46, Alex SALVINI (I – Honda) came in one of the last duel of the night and improved it (1'30''33)…
But then, everybody was looking for the last duel of the evening: Matthew PHILLIPS (AUS – Sherco) versus Mathias BELLINO (F – Husqvarna). And once again, the "angry ginger" proved he is a specialist of that type of special test, atomizing SALVINI time: 1'27''46. On his side, PHILLIPS ended 12th. The French will start tomorrow with a precious 12 seconds advantage over his rival…
In Junior, Giacomo REDONDI (I – Honda) once again proved he is the boss (1'31''69) ahead of his teammate Davide SORECA (I – Honda) and Catalan Josep GARCIA (E – Husqvarna) while in 125cc, Jean Baptiste NICOLOT (F – Yamaha) scored the best time over Valerian DEBAUD (F – Yamaha) and Brit Lee SEALEY (GB – Yamaha).
After a great Super Test, all eyes are now focusing on tomorrow and the Day 1 of this Grand Prix Polisport of Portugal. The rain should certainly be there and that should give us a great Enduro day!