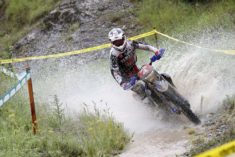 Sun, intense heat and dust are usually synonymous with Greece when the Maxxis FIM EnduroGP World Championshipcircus comes to town … only it seems that the West Macedonia region could not guarantee this, even in May! For the second time this season, a GP was ruled by rain and mud.
At the Top
Three beautiful special tests, and an enthusiastic crowd of motorcycle, especially enduro, fans. Everything came together for the organising club, AMOTOE, with their head Doc ATHANASOULOPOULOS and his squad at the Offroad Team, along with the Moto Club of Grevena and its president Ioannis SIOULIS offering up a very beautiful and spectacular Greek Grand Prix. Unfortunately, the rain wanted to have its say and joined the meeting – making the planning a much more difficult task for everyone! But in their usual style (never panicking, never rushing), the organisers masterfully came out on top! With the help of Course Inspector Maurizio MICHELUZ, they managed to take the necessary steps to ensure there were no hiccups and ensure the smooth running of the race weekend. We even got to see the president of the Greek Federation, Stelios KORELIS, get his hands dirty and join the helpers! What better reward  after so much hard work than a large number of spectators and a town delighted with the arrival of EnduroGP in their city and region.
Mushroom City!
Arriving in Grevena, we were surprised to learn that the emblem of the city is … the mushroom! And this local delicacy was served in all the town's restaurants in various different guises; fried, grilled, and served with a variety of delicious sauces. The symbol of the city is found everywhere – on roundabouts and in paintings. The organisers therefore decided to use this fungus as a logo for the event t-shirts! After spending almost a week in the Macedonian city, it is ultimately not surprising that the mushroom is so popular here – the rainfall we experienced certainly explains why they grow so well !
Finland's Young Hope
Less than a year ago, Juha SALMINEN (SF) assured us at the Belgian Grand Prix that although Finland had experienced a 'trough' in recent years, the next young generation of riders were on their way. Although he is not yet in a position to giveGiacomo REDONDI (I – Honda) a run for his money, Henric STIGELL (TM) was able to impress the paddock. Somewhat under the radar in Morocco (10/9), REMES' great friend has since found his form. He began to make an impression in Gouveia, Portugal (8/4) and in Grevena he would have been 'entitled' to a podium if it wasn't for a small mistake on the last lap on Saturday. He still finished the Grand Prix with a 4th and a 6th, thereby proving he is learning and progressing. No doubt the young STIGELL will be keen to continue his success at the next race to be held in Heinola, Finland – his home country. Will it be a podium this time?
Beta Heading The Standings
After three Grand Prix, Matthew PHILLIPS (AUS) is still the leader of the EnduroGP category, but Sherco is perhaps surprisingly not leading the Manufacturers' title. After Portugal, the Franco-Spanish brand managed a 3rd and a 5th best placing in Greece, while rivals Beta pocketed 4th and 2nd places. The bottom line is, Beta (95pts) took the Manufacturer standings lead by 3 points to Sherco's 92pts, while TM, who enjoyed a strong weekend with the double win of Eero REMES (SF) remain in close contention (88pts) … note that KTM and Husqvarna are respectively in 4th and 5th position in the standings.
ALBERGONI, Full Time Manager Before Long?
Since the beginning of the season, Simone ALBERGONI (I) has taken on the difficult task of rider AND team manager forKE Racing. He has shown so far that it's not been easy, having finished just two days of the six in which he has participated since the beginning of the season. The most experienced rider in the paddock (17 years of racing) confided in us on Sunday night: "I haven't got my head in the race! When you have two young children at home, you start to think much more than before, you open the throttle less, and brake sooner! I think it may be time for me to stop and turn my hand to the role of a manager on its own…"
Even though nothing is official yet, it may well be that we will no longer see ALBERGONI as a rider in EnduroGP. But he wants to work in enduro, and has hinted he may already be looking for some young talent to enrole into international racing.
PHILLIPS…Sherco's Rock?
Since the beginning of the season, everyone has marvelled at the speed and performance of Matthew PHILLIPS (AUS)riding his 300cc 4-stroke Sherco! Whilst Australia's best represents the French brand with the position of interim leader inEnduroGP, his success also masks the below-par performances of his teammates … Indeed, after two Grand Prix, Anthony BOISSIERE (F) threw in the towel because of a sore back and a crisis of confidence. And Lorenzo SANTOLINO (E) has not yet scored a point in EnduroGP and has only managed 10th in E3. Phillips has so far been the leading light of the brand. But fortunately Kirian MIRABET (E) came out of the latest GP 5th in Junior, despite a difficult Grand Prix of Greece (DNF / 7)…
First Victory For Yamaha
Despite enjoying podium presence since their official return to Enduro in 2015, Yamaha had never experienced the joy of victory! Often well placed – notably Cristobal GUERRERO (E) last year in Jerez and Jamie MCCANNEY (GB) in Morocco and Portugal this year – the blue team had to wait for this hard Hellenic round to finally climb onto the top step of the podium, thanks to the excellent performance of Loïc LARRIEU (F)! The French rider also achieved his first victory here in a Senior category, as well as bringing the all-new Yamaha WR450F its first win. What a superb result for LARRIEU's manager Marc BOURGEOIS and the boss of Enduro and Rally at Yamaha Europe, Alexander KOWALSKI!